So. Any beer festivals this weekend?
Friday, July 25
Popcorn 'n' Pils Pairings Weekend
Tap House Grill, 6010 S. Cass Ave., Westmont, IL (630) 541-8840
Pairings with beer, $12:
White truffle, Parmesan & fresh herbs with Oskar Blues Mama's Little Yella Pils
Spicy Creole mustard & scallion with Lagunitas Pils
Roasted Garlic, sun dried tomato & thyme with North Coast Scrimshaw Pilsner
Smoky BBQ, bacon & molasses with Victory Prima Pils
11:00 am - 8:00 pm ♦ Sierra Nevada Tap Takeover Weekend
Franklin Tap, 325 S. Franklin, Chicago (312) 922-8025
In celebration of the Seirra Nevada Beer Camp coming to town, Franklin Tap will feature six Sierra Nevada drafts including Summerfest, Pale Ale, Torpedo, Ovila Saison, Southern Hemisphere, and A TBD Sierra Nevada Beer Camp Collaboration!
12:00 pm ♦ Oakum Saison Release at Half Acre
Half Acre Beer Company Tap Room, 4257 N Lincoln Ave., Chicago (773) 248-4038
On Friday we'll send out a Saison called Oakum. We've been working with this yeast on a number of beers. Saison strains can lean into some bizarre territory lagged down by esters and weight. With Oakum, we try to tie down the greater array and prop up the clean life of Saisons. Should you have the time, float over and ease into some pints.
5:00 pm ♦ Lingering at the Lodge with Bell's
The Bavarian Lodge, 1800 Ogden Ave, Lisle, IL (630) 241-4701
Come join us for a special evening at The Lodge where we will be pouring Lager Beer, Oarsman and Baron von Nordwestlich. American brews with a German connection. Available while supplies last!
5:00 - 7:00 pm ♦ Lagunitas "Keep the Jar" Night
Moxee Kitchen & Madmouse Brewery, 724 W. Maxwell St., Chicago (312) 243-3660
Hiyo! Who's thirsty? Come to Moxee Kitchen & Madmouse Brewery, where we're tapping Lagunitas IPA, and Night Time, a Black IPA. Plus you get to take home some swag (while supplies last).
6:00 pm ♦ 'Happy Christmas' Screening
Music Box Theatre, 3733 N. Southport Ave., Chicago 773-871-6604
The Chicago Reader, Revolution Brewing & the Music Box Theatre present Joe Swanberg's Happy Christmas. The night will begin with beer samples and discussion by Revolution Brewing from 6pm-7pm, a screening of Happy Christmas at 7pm with introduction by filmmaker Joe Swanberg (who also directed Drinking Buddies) and Chicago Reader Film Editor J.R. Jones followed by a discussion and Q&A.
8:00 - 11:45 pm ♦ Period Panties Launch Party
The Chop Shop, 2033 W. North Ave, Chicago 773-537-4440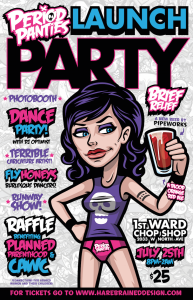 ATTN: MUST BE 21 OR OLDER TO ATTEND! IDs WILL BE CHECKED AT THE DOOR!
Tickets are $25 through
this link
, and will be available at will call at the entrance to First Ward (in the back) the night of the event.
Admission lets you experience:
burlesque performance by local dance troupe The Fly Honeys
Brief Relief Ale brewed by Chicago's Pipeworks Brewing Company specifically for this event
unlimited not-so-special beer
comedic runway event
Fotio photo booth
DJ Optimist from Milwaukee
"up & coming" caricature artist Russell
The event will also feature a charity raffle for CAWC (Connections for Abused Women and their Children) and Planned Parenthood Illinois. Raffle tickets sold separately at the event ($5 of your ticket price will also go to the charities).
Saturday, July 26
10:30 am - 5:00 pm ♦ Tribes Fest II
The Tribes Alehouse, 9501 W. 171st St., Tinley Park, IL (708) 966-2051
There will be 2 Sessions: Session I - 10:30AM - 1:30PM, Session II - 2:00PM - 5:00PM. $40.00 Per Session. Link To Buy Tickets.
25 Breweries, 1-2 Offerings per brewer, 10 - 7oz Tastes, Commemorative Glass, Rare or Pub Only Beers, and 15% Off All Food Throughout the Day
The event will be held outdoors on the patio. Breweries are only serving rare, unique or pub only offerings for the event. Attendees MUST be of legal drinking age (21 years old).
Participating Breweries Include: Against the Grain, Ale Asylum, Bells, Boulevard, Brewery Vivant, Dark Horse, Destihl, Firestone Walker, Founders, Goose Island, Greenbush, Lagunitas, Local Option, New Belgium, Oskar Blues, Pipeworks, Revolution, Solemn Oath, Stone, Surly, Three Floyds, Vander Mill + More!
12:00 - 3:00 pm ♦ 5 Rabbit Beer Lunch & Free Tastings
Pizza Rustica, 3908 N. Sheridan Rd., Chicago 773-404-8955
Anyone can do a beer dinner... Celebrate a summer afternoon with a delicious craft beer lunch at Pizza Rustica featuring seasonal & specialty brews from 5 Rabbit Cervecaria. Chef Stefano will pair his delicious Blackboard lunch dishes & small plates perfectly with the beers. Expect free tastings & fun prizes! The featured beers include 5 Rabbit, Gringolandia Super Pils and 5 Lizard. Beer will also be available for purchase: $2.50 for a 4oz sample size and a pint will range from $7-$9. In addition, a special 2012 vintage beer, Huitzi, will also be featured. Huitzi will be available in a 750 mL bottle for $28 (no sampling available). For more information, visit the Facebook event page.
3:00  - 4:00 pm ♦ Bike to Brew Ride
Join us for an early summer evening bike ride winding through Chicago's industrial and residential streets and ending at Revolution Brewery for a private party with DJ Limbs, food trucks and tasty Rev Brew beers. Space is limited for this 21+ ride. Your registration guarantees you access to the party, a beer ticket, colored valve cap light for your ride and support along the carefully crafted eight-mile route. The pre-ride festival starts downtown at 3 p.m. and will feature hip bike and urban exhibitors along with delicious samples of Dark Matter Coffee. The event benefits Active Transportation Alliance's work to improve biking, walking and transit.
Your registration guarantees you:
1. Access to the pre-ride festival downtown at Daley Plaza (3pm-5pm) with coffee samples, cool vendors and games.
2. Colored valve-cap light for your ride.
3. Group ride on carefully crafted route to Revolution Brewery on Kedzie.
4. Beer ticket and access to the private party (7pm-10pm) at Revolution Brewery with DJ Limbs.
5. Party includes food trucks, music and Revolution beer specials
This is a 21+ only ride and will sell out.
Sign up now!
3:00 pm ♦ CCBE Homebrew Showcase
1355 North Milwaukee Ave Chicago
Chicago Craft Beer Enthusiasts will be hosting a Saturday of Homebrews, Music, Food, and Giving Back! We figured it's about time to do a home brew event and showcase some of the talented brewers around Chicago. We also wanted to tie in water conservation by collecting a donation to help out the Alliance for the Great Lakes.
We found this fitting since all of the water used to produce our beer comes from the Great Lakes. Just a way for us to give back to something we all enjoy, beer!
We are looking for enthusiastic homebrewers to brew a batch to showcase at this even, and of course beer enthusiasts to enjoy them.
Those interested in brewing a beer for this event contact Christopher Mann or ChicagoCBE@gmail.com
Everyone not brewing a beer should bring stuff to toss on the grill, and we suggest a $10 donation, but any amount is greatly appreciated! Donations must be made through gofundme only. There will be a raffle drawn for those making the suggested donation.
Conveniently Wicker Park Fest will be going on this day with the south stage set up right across the street. Public Transportation for those in the city is suggested as several streets will be closed off for the fest.
4:00 - 8:00 pm ♦ Kuipers Family Farm - Inaugural Orchard Ale Fest
Kuipers Family Farm, 1N318 Watson Rd., Maple Park, IL 815-827-5200
Advance Tickets here. On-line Guest: $40.00, Day of event Guests: $45.00, VIP Guest: $55.00 (3:00 – 8:00 pm admission), Designated Drivers $15.00.
Kuipers Orchard Events is proud to showcase some of the Midwest's finest Craft Brewers, in our inaugural Orchard Ale Fest. Situated on the scenic grounds of Kuipers Family Farm, you'll enjoy the samplings of these talented master brewers, while learning about their origins and characteristics from brewery representatives. Take pleasure in some of the most delicious BBQ you'll encounter from The Country Store Catering from DeKalb, IL. Live entertainment to be announced.
Over 60 Craft Beers will be available for sampling and enjoying. VIP Guests will gain entrance to the event one hour earlier and enjoy a private tasting of Limited Edition and hard-to-find Craft Beers.
Orchard Ale Fest "Things that matter:"
This is strictly a 21 and over event – so leave the little ones at home. Everyone entering the fest must present a valid government issued ID.

No outside food or beverages.

No pets!

Picnic tables will be abundant – but feel free to bring your own chair.

Parking is free.

Orchard Ale Fest will take place Rain or Shine!
6:00 pm ♦ New Belgium Takeover
Tap House Grill, 1472 Market St, Des Plaines, IL (847) 813-9996
Abbey, Coconut Curry hefeweizen, Fat Tire, Rampant Imperial IPA, Ranger IPA, Snapshot Wheat Ale, Summer Helles, Trippel. Lips of Faith Series: Gruit, La Folie, Pluot, Yuzu. Collaborations: 3 Floyds Gratzer, Cigar City ale with Anaheim and Marash peppers aged on Spanish cedar, Red Rock Brewing Paardebloem (Belgian-style ale with peach,
grains of paradise, dandelions, & wood-aged beer).
6:00 pm ♦ Summertime in Wisconsin beer dinner
Fat Cat, 4840 N. Broadway, Chicago (773) 506-3100
Fat Cat and Lakefront Brewery pair together for a "Summertime in Wisconsin" themed beer dinner. Make your reservation now for a unique and fun 4 course dinner created by chef Erica, paired with select Lakefront Brewery beers. Tickets are $45. A 2014 Fyxation Bike will be Raffled off at 8 pm, no purchase necessary must be present to win. Contact ChicagoEvents@Rocketmail.com for tickets.
7:00 pm ♦ Country Boy & Half Acre Samplings
The Pony, 1638 W. Belmont Ave., Chicago (773) 828-5055
Two big breweries; one location. Free beer samplings from Country Boy of Lexington, Ky, and Half Acre Breweries. Live Music by Hayward 8 p.m.
Sunday, July 27
10:00 am - 2:00 am ♦ Tour de France at The Pony
The Pony, 1638 W. Belmont Ave., Chicago (773) 828-5055
The Pony will be hosting the last stage of the Tour de France. Specials include $4 Farmhouse Ales and $1 Champagne Mimosa. FREE French Fries
12:00 - 5:00 pm ♦ Sierra Nevada Beer Camp Across America
Navy Pier Chicago
Along with Sierra Nevada's 12 collaboration brewers, we've invited every craft brewer from these states to serve their beers at the Midwest Edition: WI, MN, IL, MI, IA, MO, IN, OH and KY—more than 600! See who's signed up below. Check back often; the list will grow!
3 Floyds, Munster, IN
3 Sheeps, Sheboygan, WI
4 Hands, St. Louis, MO
Against The Grain, Louisville, KY
Ale Syndicate, Chicago, IL
Allagash, Portland, ME
Alpha Brewing Company, St. Louis, MO
Arcadia Ales, Battle Creek, MI
Argus, Chicago, IL
Asheville Brewers Alliance, Asheville, NC
Atlas, Chicago, IL
Atwater, Detroit, MI
B. Nektar Mead, Ferndale, MI
Baderbräu, Stevens Point, WI
Badger State, Green Bay, WI
Ballast Point, San Diego, CA
Begyle, Chicago, IL
Bell's, Kalamazoo, MI
Big Dawg Brewhaus, Richmond, IN
Biloba Brewing LLC, Brookfield, WI
Blue Heron BrewPub, Marshfield, WI
Bluegrass Brewing, Louisville, KY
Boulevard, Kansas City, MO
Brickside Brewery, Copper Harbor, MI
Brickstone, Bourbonnais, IL
Broad Street Brewery, Reinbeck, IA
Capital Brewery, Middleton, WI
Chain O'Lakes Brewing Company, McHenry, IL
Christian Moerlein Brewery
1:00 - 4:00 pm ♦ 2nd Annual Midwest Brewers Brawl
Washington Park, 115 Lakeshore Dr., Michigan City, IN
Northwest Indiana Leaders Young Professional Network will be hosting their 2nd Annual Brewers Brawl at the Pavilion at Washington Park.
$60 VIP Access begins at 1:00 PM CST and includes food and commemorative t-shirt. Only VIP 50 tickets are available!
$40 General Admission begins at 2:00 PM CST.
Snacks and t-shirts ($10) will be available for purchased during General Admission.
Kick off the Great Lakes Grand Prix week at the Brewers Brawl! Sample craft brews and cast your vote for the Best of Brawl award while enjoying beautiful Lake Michigan views and helping to support the United Way.
Regional brewers will compete in a juried competition to win best in class awards for the best stout, the best IPA and the best wheat beer.
Entertainment will include live music, food, and fun. Ages 21+ only. Tickets in advance at this link.
6:00 - 8:00 pm ♦ Revolt Against Cancer!
Revolution Brewing Brewpub, 2323 N. Milwaukee Ave., Chicago 773-227-BREW
Enjoy beers and snacks in the Brewers' Lounge from 6:00-8:00 at the Revolt Against Cancer fundraiser for the American Cancer Society and Uniting Against Lung Cancer. Tickets will be $25 at the door and include unlimited drafts, heavy appetizers, raffle prizes and more! Please RSVP on Facebook or Evite.