Updated: Congratulations to Judy Milroy, winner of one pair of tickets to LagerJam IV at Mahoney's this sunday. Thanks to all who entered, and you can still get a discount on advance tickets.
Sunday, June 1
12:00 - 3:00 pm ♦ Lager Jam IV (with free and discount tickets)!
Mahoney's Pub & Grille, 551 N. Ogden, Chicago 312-733-2121
LagerJam IV will provide patrons, ages 21 and over, 3-ounce samples of 25 craft beers per person, paired with bite-sized samples of complementing sausages. Beers have been paired with freshly cured, savory sausages with flavors of:  Garlic & Spinach, Kiszka-Barley, Swojska, Potato, along with staples such as Summer, Bratwurst, Kielbasa, Andouille, and Blood sausages.  (Brewer list to come)
LagerJam IV will feature a Sausage Blowing contest. Contestants will race against one another to see who can blow a sausage wheel, constructed of two pieces of sausage and a toothpick through the center, to the finish line. There will be a men's and women's competition and then a faceoff between the finalists to crown one Sausage Blowing champion and gift them with a basket full of beers and other goodies to take home.
LagerJam IV will take place, rain or shine, at Mahoney's utilizing their ample outdoor patio, their airy cantina, and spacious indoor bar, too.  Tickets will be $25 in advance at this link, and $30 the day of the event, if available. Benefiting Variety – the Children's Charity
Once more I have a free pair of tickets! Just enter your name and email at this address before 6 pm, Friday! Winner will be announced Friday evening. Once again, one entry per person, 21 and over, please!

Also! Beeronaut readers can get a $5 discount by entering the promo code "BeerBlog1" at the ticket link above.
---
Friday - Sunday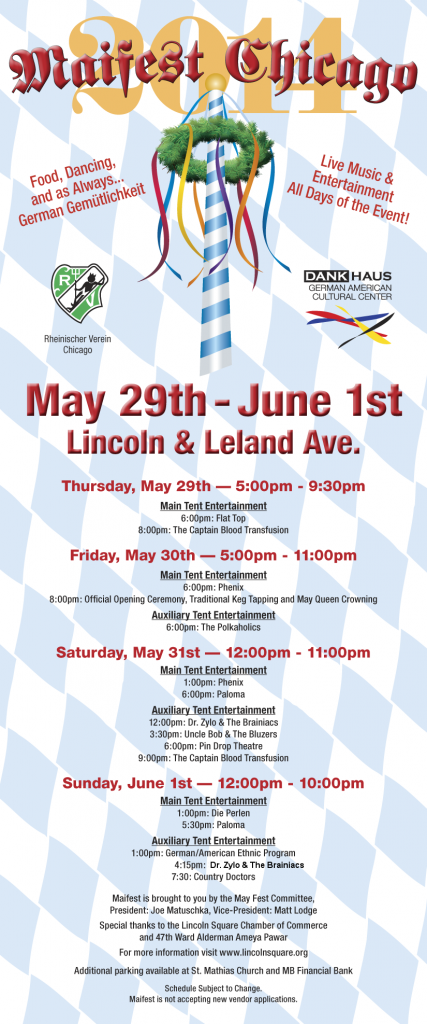 12:00 pm - 11:00 pm ♦ Maifest Chicago
Lincoln Square, 4700 N. Lincoln Ave., Chicago
Featuring Hofbrau and Pabst Beers.
Maifest 2014 is brought to you by the May Fest Committee, President Joe Matuschka,  Vice President Matt Lodge and with special thanks to the Lincoln Square Chamber of Commerce and 47th Ward Alderman Ameya Pawar.
Mayfest Chicago, NFP is a 501(c)(3) to promote Chicago's German heritage. Mayfest Chicago benefits a number of German organizations including the DANK HAUS, the American Aid Society, the Donauschwaben Youth Group, German American Policy , and others.
Mayfest (Maifest in German) is the traditional German celebration of the arrival of spring. Maifest is still celebrated throughout Germany with the maypole (maibaum) decorated to show off the history and crafts of the local village or town.
This 15th annual German festival features German foods, live music, maypole dance and other traditional German presentations. The Official Opening Ceremony takes place Friday at 8:00 pm on the Main Stage, with the Traditional Keg Tapping and May Queen Crowning
Friday, May 30
12:00 pm ♦ Brendan's Too Grand Opening Party
Brendan's Too, 3135 W. Montrose, Chicago (773) 681-0341
Join us in Albany Park, Chicago for a jam-packed Grand Opening weekend filled with freebies, prizes, local craft beer tasting, wine & whiskey tasting, and plenty of music and delicious free food all weekend long. We'll be unveiling the new name of our bar this weekend too!
- John, Jennifer, and Terry (new owners)
Saturday, May 31
Imperial Oak Taproom Grand Opening Party
Imperial Oak Brewing Co., 501 Willow Blvd, Willow Springs, IL (708) 559-7311
Located near Willow Springs Road and Archer in Willow Springs, we are a small brewpub that puts the beer first. We make an ever changing variety of styles including strong and barrel aged beers. Our Grand Opening Weekend May 30th through June 1st with the official party on Saturday May 31st. We will be tapping two more beers, a Milk Stout and a Belgian IPA, that we're brewed on our 7bbl system. We'll also be tapping several small batch beers as well. There's only 1 keg each of these small batch beers so they won't last long. We will also have the "Two Soldiers and a Marine" BBQ food truck starting at 3pm.
12:00 - 3:00 pm ♦ Rude Hippo Brewing Crowd Funding Launch Party
Fischman Liquors & Tavern, 4776 N. Milwaukee Ave., Chicago (773) 545-0123
Rude Hippo Brewing is officially launching their crowd funding campaign at poorbrewer.com and here are 2 fantastically delicious reasons you'll want to check them out:
1) Old St. Auggie's - Belgian Style IPA - 6% abv
2) Throat Hugs - Cream Ale - 5% abv
Come meet the brewers of Rude Hippo in the Wreck Room on Saturday and you'll get to see and taste exactly why you'll want to support their campaign.
12:00 - 8:00 pm ♦ Oath Day
Solemn Oath Taproom, 1661 Quincy Ave #179, Naperville IL
Our second anniversary is upon us, and we couldn't bear to test your patience with long lines and wall-to-wall taproom crowds. Instead, we're opening up our entire facility, including a hearty chunk of parking lot, for a two-session celebration of all things Oath.
This occasion also gives us the chance to welcome you into our soon-to-be-expanded space. We're doubling our square footage to make room for, well, you know, more beer. None of that space will be built out by Oath Day, so it's a blank canvas for us to paint our party on. We'll fill it with beer stations and loud music, you fill it with your sexy self. Lots of room to roam, no reason to stand in line waiting for beer.
TICKETS are $45 each with a quantity limit of four per person and include convenient parking, a three-hour hang sesh, your first three draft beers, and a tube-packed, signed-and-numbered, screen-printed poster designed especially for Oath Day by Solemn Oath artist Jourdon Gullett. Additional beer tickets are available for $5 each. Our bombers and merchandise, including some new selections for Oath Day, will be available as well. $20 designated driver tickets will be available as well in limited supply.
This occasion also gives us the chance to welcome you into our soon-to-be-expanded space. We're doubling our square footage to make room for, well, you know, more beer. None of that space will be built out by Oath Day, so it's a blank canvas for us to paint our party on. We'll fill it with beer stations and loud music, you fill it with your sexy self. Lots of room to roam, no reason to stand in line waiting for beer.
First session: Noon – 3 PM
Second session: 5 – 8 PM
Skateboard demo by the Bluetown Skateboards crew
SOB photo booth
Fu du Fafa (Farmhouse Imperial IPA) bottle release for carry-out purchase
Food for purchase by TBD vendors
Solemn Oath draft beer, including patiently cellared out-of-rotation and barrel-aged beers
Outdoor games that aren't lawn darts (doesn't work well on concrete, or around human flesh for that matter)
1:00 - 5:00 pm ♦ 2nd Annual Grayslake Craft Beer Festival
Grayslake Festival Grounds, 61 S.Whitney St., Grayslake, IL
The Grayslake Craft Beer Festival returns, hosted by the Grayslake Chamber and the Exchange Club of Grayslake to help raise funds for local college scholarships. The event with will feature over 40 breweries, food, live music and more.
Sunday, June 1
12:00 pm ♦ 2nd Annual BIKE STOOPID!!!
The House Pub, 16 S. Riverside Ave, St. Charles, IL, United States
Craft Beer and Bike Pub Cruise! This event will be a Fundraiser for Aidan's Army -The Aidan Manning Memorial Foundation (This event is for cyclist only. All of you Nickelback lovers cruising on your wannabe Harley's wearing fake leather should stay at home and hug your pillows) Now that the obvious is stated, here's the details....
ABSOLUTELY NO DRINKING is allowed while on your bike from stop to stop! A Waiver will be asked to be signed when arriving at The House Pub at Noon. No you are not not signing your life away. It's just a piece of paper that says that if you scrape your knee or act like a jackass, that we aren't held liable. I KNOW that our customers would never do such a thing but it takes one douche to ruin all the fun.
Here are the Illinois rules and regulations. Maps will be supplied for everyone with times and the route from each stop. The Bike Rack will be supplying security and portable bike racks for The House Pub and Gammon Coach House.
When arriving at The House Pub at noon, take your bike to the south side of the building to the alley. The Bike Rack will have bike racks to park your bike with security to watch over them.
Here are the times and stops for the cruise:
Noon-1pm- Gather at The House Pub for waiver signing and purchase of T-Shirts
1 pm-1:15 pm- Bike to Penrose Brewing Geneva
1:15pm-2:15pm- Enjoy some Penrose Brews
2:15pm-2:45pm-Bike to Gammon Coach House Batavia
2:45pm-3:45pm- Enjoy some comfort food and brew at Gammon Coach House.
3:45pm-4:15pm- Bike back to The House Pub
4:20pm-????- Live music and Special Tapping of Lagunitas Hop Stoopid!
3:00 ♦ Slow Food South Shore: Sunday Supper
Spire Farm-to-Fork Cuisine, 299 W. Johnson, La Porte, IN (219) 575-7272
Slow Food South Shore is a newly developed chapter of the Slow Food international network of over 150,000 members in more than 150 countries.
Reception is at 3:00 pm, followed by a presentation by Slow Food Midwest Governor Eve Lacivita.
Brad Hindsley, Chef and Owner of Spire Farm to Fork Cuisine along with Nicole Bissonnette of Bartlett's Gourmet Grill, both Board Members of Slow Food, will prepare a Five Course Family Style meal for our guests to enjoy. Guests will be seated together at shared tables to encourage conversations and networking. Spring produce and local meat will be the feature of the meal with beers from Burn 'Em Brewing in Michigan City. Tickets are limited and $35 per person (plus gratuity). Available at Brown Paper Tickets.