So much going on this week. Usually the lead-up to Labor Day gets busy, because most people go out of of town on the actual weekend.
Monday, August 26
Burgers & Begyle at Troquet
Troquet, 1834 W. Montrose Ave. Chicago (773) 334-5664
Troquet and Begyle Brewery announce a special Burger and Brew night, with a special burger and beer flight for $20 per person (tax or gratuity extra).
BEER FLIGHT: Bushel and a Peck Saison, Farmer's Hand IPA, Flannel Pajamas Stout & Summer Ale.
In addition, from 5 p.m. to 8 p.m., Begyle Brewers, Kevin Cary, Brendan Blume and Matt Ritchey will be at Troquet.
5:30 - 8:00 pm ♦ Great Lakes & University of Chicago Oriental Institute Sumerian Beer Project SOLD OUT!
Fountainhead, 1970 W. Montrose Ave, Chicago (773) 697-8204
We host Pat Conway of Great Lakes Brewing and Special Guest from the University of Chicago Oriental Institute for a 3 course dinner, short lecture about and tasting of their 2 Sumerian Beers. Iickets are $61.23 through Brown Paper Tickets
for more information on the Sumerian Beer Project, check this New York Times article.
7:00 pm ♦ Ticket sales open for the Map Room Beer School
The Map Room, 1949 N. Hoyne Chicago (773) 252-7636
Greg Browne, brewmaster at Mickey Finn's Brewery in Libertyville, IL, is our regular guide. Students study several beers and learn exactly what they're tasting and the roles that the ingredients and the brewing process have in forming those aromas and flavors.
Tickets go on sale today at 7 p.m. for the next class, to be held August 31, 4 p.m. Topic TBD. Limit, 45 people. Price, $25 per person. Cash only, maximum 2 tickets per purchase, and first come-first serve until all tickets have been sold.
7:00 pm - 1:00 am ♦ Ciders & Sliders & Sci-fi, Oh My!
Jerry's Wicker Park, 1938 W. Division, Chicago (773) 235-1006
This event was scheduled for August 12, but has been rescheduled due to water issues at Jerry's.
An evening with Ciders, Science Fiction and small sammies.
Ciders on Tap: Virtue Red Streak, Tieton Cider Works Yakima Valley Dry-Hopped Cider, Vander Mill Ginger Peach, Wandering Aengus Anthem Pear.
Bottled Cider: Original Sin Apple & Elderberry, Ace Pear.
Tuesday, August 27
5:00 - 9:00 pm ♦ Hats Off To Homebrewers
Horse Thief Hollow Brewing Co., 10426 S. Western Ave, Chicago 773 779 BREW (2739)
Homebrewers and beer geeks…come share your love for craft at Horse Thief Hollow with the gang from Deschutes Brewery. Chat with Horse Thief Brewer Dave Williams and Deschutes Brewer Kyle Spencer. Gather complimentary brewing supplies, including clone recipe booklets and bags of whole flower hops, to use in your next homebrew (supplies are limited). But that's not all…
Enjoy pints of Deschutes Brewery beers like the collaborative Saison, Black Butte XXV and Chainbreaker White IPA plus samples of ultra-rare Black Butte XXII (never before released) and special barrel-aged collaboration brew, Collage. Enjoy side-by-side samples of beers from both breweries paired with bites from local chef Graham Elliot. Mix in unique live entertainment from Environmental Encroachment and support of a fantastic charity Beverly Arts Center and it all adds up to a can't-miss-night!
$10 (gets you two full pints or two beer & food pairings). Additional tokens are $5. Tickets at this Eventbrite link.
6:00 pm ♦ Meet Stone Brewmaster Mitch Steele

Binny's Beverage Depot South Loop Tasting Room, 1132 S. Jefferson St., Chicago (312) 768-4400
Stone Brewmaster Mitch Steele will be on hand in our South Loop tasting room, signing copies of his new book titled "IPA: Brewing Techniques, Recipes and the Evolution of India Pale Ale
." Come talk everything hops with Mitch, we'll also have plenty of Stone's hoppy goods on tap as well.
6:30 pm ♦ Perennial Artisan Ales Dinner at Trenchermen
Trenchermen 2039 W. North Ave., Chicago (773) 661-1540
Trenchermen announces a unique beer dinner with Perennial Artisanal Ales of St. Louis, and a few of their friends friends. Chefs Gerard Craft (Niche, Taste, Brasserie by Niche, Pastaria) and Kevin Nashan (Sidney Street Café) of St. Louis will make the journey upriver to throw down the styles and flavors of their St. Louis cooking. Chef Paul Virant (Vie, Perennial Virant) will join Trenchermen's Pat Sheerin to represent the unique approaches of two of Chicago's finest cooks.
Dinner starts at 6:30 in the bar with 4 passed appetizers and the first beer of the evening. At 7pm, move into the dining room for a 5 course meal, each with a unique beer pairing from Perennial Artisanal Ales.
Tickets, at $100 per person, are available by calling Trenchermen directly 773.661.1540
7:00 - 9:00 pm ♦ Goose Island "Be a Brewmaster" Contest at Emmit's Irish Pub
Emmit's Irish Pub, 495 N Milwaukee Ave Chicago (312) 563-9631
Two hour Goose Island party. Enter to win a chance to collaborate with a Goose Island Brewmaster to create, brew and name your very own Goose Island Beer. A 312 bike and other Goose Island prizes will be raffled off during the party.
7:00 pm ♦ Bell's Wedding Ale Tapping
Rocking Horse, 2535 N. Milwaukee Ave., Chicago (773) 486-0011
A special tapping of Bell's Wedding Ale.
7:30 - 9:30 pm ♦ Leukemia and Lymphoma Society Fundraiser
Revolution Brewing Brewpub, 2323 N. Milwaukee Ave., Chicago 773-227-BREW
Come to Revolution for great beer, great food and a great cause. Team in Training is hosting a fundraising event in the brewpub's 2nd floor Brewers' Lounge for the Leukemia and Lymphoma Society, the nation's largest non-profit dedicated to funding blood cancer research and providing education and patient services. Tickets are $35 and can be purchased through WePay.
Wednesday, August 28
Revolution Beer Tapping: What The
Revolution Brewpub, 2323 N. Milwaukee Ave., Chicago 773-227-BREW
"What The…" our version of a traditional German Helles, will be tapped at the brewpub and the brewery tap room (3340 N. Kedzie Ave., Chicago).
4:00 - 9:00 pm ♦ DC-B-QUE Summer Barbeque & Beer Event
DC Sarnies Restaurant, 649 Lake Cook Rd., Deerfield, IL
We're getting together some of the best of the best to wave farewell to the season and ring in the next. DC-B-QUE combines the love of two things: BEER and BBQ. We have some of our friends Two Brothers & Revolution Brewing providing a variety of craft libations for you to wet your appetite with, and our pals over at Real Urban Barbecue bringing you some of the best BBQ you're likely to ever try.
DC-B-QUE is an ALL YOU CAN EAT event! Try a little, try a lot, just know you will leave totally and absolutely beaming with happiness from all the amazing brews and bbq your being now holds!
You get all this for ONLY $49 PER PERSON! You can step your savings up even further by purchasing tickets in groups of 4 for only $40 per person! A truly fantastic deal if we do say so ourselves. Tickets are on sale at Eventbrite.
5:00 - 7:30 pm ♦ Beers and Book Signing
The Map Room, 1949 N. Hoyne Chicago (773) 252-7636
Join us to celebrate the release of New Holland's own Fred "The Beervangelist" Bueltmann's first book - The Beervangelist's Guide to the Galaxy. Fred is an outspoken, fiercely passionate champion of well-made beer and food. Come meet the author, get a book, and enjoy good conversation and great beer. A beer & cheese tasting will also be featured.
Fred has been involved in the beer industry in many capacities since discovering homebrewing in the early 1990's. He has worked for a Chicago beer distributor, managed the Midwest region for a German beer importer, and served as Sales Manager/VP of Sales for a famed Kalamazoo, Michigan brewery before joining New Holland as a partner in 2004. A nationally-recognized expert on pairing beer and food, Fred is a Certified Cicerone®, past president of the Michigan Brewers Guild, and recipient of their prestigious "Tom Burns Award" recognizing the pioneering spirit of the "Great Beer State." And on top of that, he's also an accomplished musician, cook, and horseman. For more information: NEWHOLLANDBREW.COM/BOOKS.
6:00 - 9:00 pm ♦ Brooklyn Brewmaster's Reserve Night
Sheffield's Beer and Wine Garden, 3258 N Sheffield Ave., Chicago, IL
You like 80′s party rap? Then this is place to be, we will be playing it all night long.
We will be pouring Brooklyn Brewery's There Will Be Black, Scorcher #366, Fiat Lux, Monster 2010 Vintage and Black Chocolate 2011 Vintage
We are having a raffle for Brooklyn bicycle gear and we will be giving away Brooklyn glassware. There will be food pairing each paired with one of the delicious beers listed above.
7:00 - 10:00 pm ♦ Samuel Smith Farm to Table Beer Dinner
Duke's Alehouse and Kitchen, 110 N Main St., Crystal Lake, IL (815) 356-9980
Please welcome Yorkshire's oldest brewery established in 1758. Local and sustainable cuisine paired with Samuel Smith's fantastic lagers and ales.
Tickets are $45 ($35 for Durty Duke's members) at Eventbrite.
Thursday, Aug. 29
4:00 pm - 2:00 am ♦ Delilah's 20th Anniversary Party
Delilah's, 2771 N. Lincoln Ave., Chicago (773) 472-2771
Delilah's opened in 1993 in a space that has been a bar since 1894. We have been open every day since the start and Delilah's has established itself as one of the most recognized taverns on the planet! For our 20th Anniversary we will be throwing a seriously fantastic bash!
We'll be showing new art by eight different local artists, each showing a custom piece that brings their own perspective on Delilah's and their personal relationship with the bar. Some of these artists are Chicago painters Tom Billings, John Langford, Emily Rapport, Joey Lala and Erica Huntzinger.
We will be releasing our 20th Anniversary Whisky which is a collaboration with Compass Box Whisky Company in London and we will also be releasing our 20th Anniversary Ale which is a collaboration between Delilah's and Three Floyds Brewing. These fabulous drink projects are still a bit of a secret so the details will be revealed at the party. Arrive early and thirsty!
There will be some special afternoon musical visitations, plus, we'll have some all-star DJing including Casino El Camino from Austin, Texas and from Jump Up! Records' Ska & Reggae DJ Chuck Wren, perhaps another curious visit from Fisto The Clown and all sorts of additional ridiculousness to begin another fantastic year at Chicago's most infamous cavern tavern.
4:00 pm ♦ Monk's Pub IPA Day
Monk's Pub, 205 W. Lake St., Chicago (312) 357-6665
IPA takeover our taps!
Big Shoulders Hopapalooza, O'Fallon 5 Day, Church Street Brimstone, Revolution Anti-Hero, Greenbush Dungras, Goose Island The Illinois, Boulevard Double Wide, Great Lakes Lake Erie Monster, Napa Smith Hopageddon, Cervejaria Colorado-Ribeirao Preto (Brazil) Vixnu, Stone Enjoy By 09.13.13.
5:00 - 7:00 pm ♦ Founders Tap Takeover
Durty Nellie's, 180 N. Smith St., Palatine, IL (847) 358-9150
Come taste brews masterfully crafted by Founders Brewing Company at Durty Nellie's. Featuring Double Trouble, Oatmeal Stout (nitro), All Day IPA, Porter, Dirty Bastard, Centennial IPA, Rubaeus, and a Founders Limited Release – TBA
5:00 - 7:00 pm ♦ Finch's Local Brewery Feature at Franklin Tap
Franklin Tap, 325 S. Franklin, Chicago (312) 922-8025
Join representatives from Finch''s Beer Company for Franklin Tap's Local Brewery Feature and chat about some of Chicago's best beers.
5:00 pm - 7:00 pm ♦ Hot Doug's Book Signing with Revolution sampling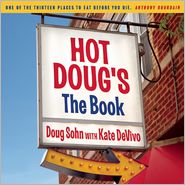 Schaefer's Wines, Foods & Spirits, 9965 Gross Point Rd., Skokie, IL (847) 677-9463
"Hot Doug" Sohn will be at Schaefer's signing copies of "Hot Doug's: The Book
"; the official book about Hot Doug's. It contains contributions from some of Hot Doug's biggest fans spread throughout the book, plus an introduction from Graham Elliot (Masterchef) himself! If you have been to Hot Doug's, you know the history. If not, now is you chance to meet the legend!.
We will have plenty of tasty treats to go along with the signing and Chicago's own, Revolution Brewery will be on hand sampling several of their craft beers. Don't miss out!
6:00 - 8:00 pm ♦ Shiner Beer Toast our Troops Fundraiser at Bottom Lounge
Bottom Lounge, 1375 W. Lake St., Chicago (312) 666-6775
Shiner beers, BBQ and good music: $4 Shiner draft, cans and bottles. $1 of each Shiner beer sold on Thursday August 29th goes directly to the Boots Campaign!
Raffle: $2 raffle tickets for a custom Shiner Epiphone guitar and other special items.
Music: The Mighty Short Bus, The Real McCoys.
Art Exhibit: Local artists will display their work which will be available to discuss and purchase.
Food Provided by Johnny Van's Smokehouse.
No Charge to enter or for the food provided by Johnny Van's Smokehouse.
Donations are recommended
6:00 - 9:00 pm ♦ "It's Always Sunny" IIPA Tapping at RB Orland
Rock Bottom Orland Park, 16156 S. La Grange Rd., Orland Park, IL (708) 226-0021
Rock Bottom will be tapping the "It's Always Sunny" IIPA brewed as a "ProAm" by Brandon Banbury, who is currently building his own Hailstorm Brewing Co. in Tinley Park.
7:00 - 10:00 pm ♦ Boulevard Souvenir Pint Night
Blackfinn American Grille, 157 W, Randhurst Village, Mt. Prospect, IL (847) 398-5501
Come watch the Bears game and enjoy a Boulevard 80 Acre Hoppy Wheat Beer or Zon Belgian-style Witbier and you get to keep the glass. While supplies last.
7:00 - 9:00 pm ♦ 312 Bike Giveaway
Porkchop, 941 W Randolph St., Chicago IL
For each $4 pint of 312 you buy, receive a raffle ticket for a custom Goose Island 312 Solé Micklish Urban Utility Bicycle which will be raffled off at 9pm.
7:00 - 9:00 pm ♦ Brooklyn Brewery Five Star Graffiti Night
Five Star Bar 1424 W. Chicago Ave., Chicago (312) 850-2555
Brooklyn Brewery is a big fan of graffiti, so naturally they had to be at Graffiti night at Five Star Bar. There is a mural on the side of Five Star Bar done by artist CZR, and on August 29 we're having a release party for the mural.
To celebrate, Five Star Bar will be transformed into an art gallery, showcasing 10 graffiti artists that have worked their way into the fine art world. In addition to the artists we will also have DJ Zebo playing some tunes between 7 and 9.
There will be specials all night for East India Pale Ale, be sure to get there and have a few, all proceeds will be going to charity.
7:00 pm ♦ Destihl Brew Works Launch at Fatpour
Fatpour Tap Works, 2005 W. Division St., Chicago (773) 698-8940
Destihl Brew Works of Bloomington-Normal is launching this month in Chicago!
Tapping Abbey's Single Belgian-style, Down State Pale Ale, Vertex IPA, Hoperation Overload …and perhaps more!