Yep, running late here. Let's just paste in and go! And you go catch some local beers and hard to find tappings.
Wednesday, May. 22
Collaborative Beer Dinner with Solemn Oath and Vanberg & DeWulf
The Publican, 837 W Fulton, Chicago (312) 733-9555
Old world meets new guard as Vanberg & DeWulf and Solemn Oath Brewery team up to take over our beloved little butcher shop for a 4-course meal paired with comparative selections from both beer enterprises, showcasing a balanced lineup of S.O.B. brews and the diverse collection of V&D (representing six different breweries and twelve incomparable beers all-told!). Please check the website for a full menu.
Cost for this exclusive evening led by representatives from both S.O.B. and V&D is $110 plus tax and gratuity. Limited seats available; to reserve, call Grace at 312-496-0012 or email grace@publicanqualitymeats.com.
4:00 pm ♦ CCBW Founders Tap Takeover
The Bavarian Lodge, 1800 Ogden Ave, Lisle, IL (630) 241-4701
Hey, if you're going to celebrate Chicago Craft Beer Week, why not celebrate with the best, right? We've invited one of our favorites, Founders Brewing Company, to come in and take over as many of our draft lines as the damn well please. They agreed. We're delighted. Anticipate a ton of Founders brews on draft likely to include some (cough cough) sought after rarities. Like the "code speak" there? Yep… it'll be here… and then some.
Please Note: If we find that there is a line of significant proportions waiting to get in our front doors to snag a serving of these "as yet undisclosed" rarities. We will issue tickets before we open the front doors based on your place in line. This ticket will guarantee you a serving of the draft rarity you choose without having to push and shove your way to the bar past your fellow revelers. We promise you a well-prepared, organized, orderly event, damn it.
4:00 pm ♦ Wednesday Tapping at Tribes Alehouse Mokena
The Tribes Alehouse, 11220 W. Lincoln Hwy, Mokena, IL (815) 464-0248
Revolution Very Mad Cow and Coup D'Etat.
5:00 pm  ♦ New Belgium Half Tap Takeover at Franklin Tap
Franklin Tap, 325 S. Franklin, Chicago (312) 922-8025
Harry Mihilidis, New Belgium''s Chicago "Ranger", will be in house to chat about what it's like to be one America's favorite craft beers. Harry will sample out some of New Belgium's old favorites and newest recipes. Six New Belgium beers will be on draft including Rampant IPA, Shift Pale Lager, and Biere de Garde.
5:30 - 7:30 pm ♦ Boulevard Brewmaster Meet & Greet
Binny's South Loop, 132 S. Jefferson St., Chicago (312) 768-4400
Boulevard brewmaster Steven Pauwels will be in house to answer any questions you may have over a pint of some of Boulevard's finest brews. On tap selections will include Saison Brett, Rye on Rye, 80 Acre, as well as a rare keg or two from Boulevard.
6:00 - 9:00 pm ♦ Celebrate Hops, History, and Craft Beer Week with Denise Neu
Fireside Restaurant & Lounge, 5739 N. Ravenswood Ave., Chicago (773) 561-7433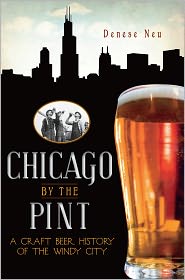 Celebrate Hops, History and Craft Beer Week with Denese Neu, author of Chicago by the Pint: A Craft Beer History of the Windy City. Entry is free!
Come enjoy a beer while learning about Chicago's urban and social history. Using a variety of local breweries as the gateway, the author provides pint sized history lessons to enjoy with your pint. Described by the Chicago Reader as a "series of engrossing, meticulously researched historic vignettes", Chicago by the Pint has been developed into a fun adult program that's not just another bar tour or lecture about Prohibition. With two nearby breweries featured in the book, there will be some interesting stuff about Edgewater too! Come join us during Craft Beer Week to celebrate literacy, local beer, and local history.
You can order food off the menu, and the restaurant carries 136 offerings of craft beers. A special of $4/pint on Fireside's own Gravity Ale brewed by Two Brother's Brewing of Warrenville, Illinois; plus a Selection of other hand-crafted brews.
The author will be available for book signing and books will be available for sale.
6:00 pm ♦ Two Brothers Spotlight
World of Beer, 1727 Freedom Dr, Naperville, IL (630) 955-0399
Join us for our Two Brothers Spotlight events. We will have 4 delicious brews on draught, a firkin, and a rep from the brewery on site to answer any questions you may have.
Ebel's Weiss, Sidekick, Off the Cuff, 16 year Firkin
6:00 pm ♦ West Division IPA Pub Crawl
Jerry's Wicker Park, 1938 W. Division, Chicago (773) 235-1006
SmallBar Division, 2049 W. Division St., Chicago
Bangers & Lace, 1670 W. Division St., Chicago (773) 252-6499
Join us Wednesday, May 22 for The Second Annual Division I.P.A. Crawl! Visit Jerry's Sandwiches for Midwestern I.P.A.'s, Bangers & Lace for East Coast I.P.A.'s and SmallBar Division for West Coast I.P.A.'s as part of our collaborative West Division Chicago Craft Beer Week I.P.A. Crawl!
Enjoy $2 off select pours with the full tour of all three spots.
SMALLBAR DIVISION - WEST COAST! featuring draft and cask I.P.A.'s from the left coast's best breweries:
Green Flash Black I.P.A.
Stone IPA with US Goldings hops - CASK
Lagunitas I.P.A.
Ballast Point Sculpin
Stone Sublimely Self Righteous with Espresso – TBC
Sierra Nevada Blindfold Black I.P.A.
JERRY'S - MIDWEST
Solemn Oath Cask - Snaggletooth Bandana dry hopped with Chinook
Solemn Oath - Snaggletooth Bandana
Solemn Oath - Kidnapped By Vikings
Three Floyds - Dreadnaught
Three Floyds - Arctic Panzer Wolf
Founders - Double Trouble
Haymarket - Mathias
Boulevard - Double Wide
Brewery Vivant - Big Red Coq
Half Acre - Vallejo
Dark Horse - Artic Dekoorc Eert
Bangers & Lace - EAST COAST
Victory Ranch S
Victory Hop Devil Nitro
Dogfish Head Burton Baton
Dogfish Head 61
Southern Tier Unearthly
Southern Tier Oak Aged Unearthly
Thornbridge Halcyon
Ridgeway IPA
7:00 pm ♦ Meet the Neighbors
Geneva Ale House, 319 W State St., Geneva, IL (630) 262-3877
Penrose Brewing Co, a ridiculously new and super local craft brewery, will be here sampling out their latest brew Hereafter!!!! Come on up, meet the owners, talk to the Brewmaster and try it for yourself!
7:00 pm ♦ Lagunitas Beer Dinner at Nevin's
Nevins Brewing Co., 12337 S. Rte 59, Plainfield, IL (630) 428-4242
Sample 6 Lagunitas Brews paired with Creations from our Chef. See the website for the dinner menu. Courses will be paired with Pils, Lil' Sumpin Sumpin, CENSORED, IPA, Hop Stoopid, and Undercover Investigation Shutdown Ale.
$35 plus tax and gratuity. Reservations Recommended 815.436.3900
7:00 pm ♦ Chicago New Brewer Showcase
Hamburger Mary's Brew & Grille, 5400 N. Clark St., Chicago (773) 784-6969
This casual meet-n-greet will feature some of the new breweries that have opened within the last year, or plan to open by year's end. Brewers and Brewery Owners will be present to talk about their beers and their plans for the future. Tickets are $20 (buy at Brown Paper Tickets), which includes 20 tastings. Participating breweries include: Temperance, 4 Paws, Lake Effect, Spiteful, Flesk, Ale Syndicate, Begyle & DryHop. Additional breweries will also be added (up to 10). Proceeds from the event will benefit the Illinois Craft Brewers Guild.
7:00 pm ♦ Beer Dinner with Begyle Brewing
Fountainhead, 1970 W. Montrose Ave, Chicago (773) 697-8204
Join us & Begyle Brewing for the launch of their new collaboration beer with Chef Cleetus, as well as a delicious Chicago Craft Beer Week Dinner. Chef Cleetus has created a fantastic 3+ course menu*, which he will walk you through course by course. Dinner starts at 7:00 & tickets are $54.26 a piece. This is going to be a very fun night so secure your seat today by going to Brown Paper Tickets. Courses will be paired with Farmers Hand, Crash Landed, a yet to be named new Begyle / Cleetus Collab, and Flannel Pajamas.
7:00 - 9:00 pm ♦ CCBW Beer Dinner at Bread & Wine with Brewery Vivant
Bread & Wine, 3732 W. Irving Park Rd., Chicago (773) 866-5266
Bread & Wine, the neighborhood American bistro, wine bar and market on Chicago's Northwest Side, is excited to partner with Brewery Vivant for a delicious beer CCBW dinner! Out of Grand Rapids, MI, Brewery Vivant takes inspiration for its beer from the small farm breweries of Southern Belgium and Northern France. Chef Curtis Gamble has paired the delicious beers perfectly with Bread & Wine fare.
The restaurant will be open for regular dinner service before, during and after the 20-seat only beer dinner. Check the website for the menu, which will include courses paired with Farmhand French Style Farmhouse Ale, Triomphe Belgian Style IPA, Solitude Abbey Style Ale, Big Red Coq American red ale, and Zaison Imperial Saison.
ADMISSION: $55, tax & tip not included. Limited to 20. Reservations are required. Reserve your spot by calling 773-866-5266 or email info@breadandwinechicago.com
8:00 pm ♦ Meet & Drink with Ale Syndicate and Lake Effect
Riverview Tavern, 1958 W. Roscoe, Chicago (773) 248-9523
Ale Syndicate and Lake Effect will tap and feature their beers. Featured beers will be available for $4 each.