It's never "Just Another Weekend" in Chicago where craft beer is concerned.
Friday, Feb. 22
3:00 - 7:00 pm ♦ Garry Meier Broadcast from Hofbräuhaus
Hofbräuhaus Chicago, 5500 Park Place, Rosemont, IL (847) 671-2739
WGN's Garry Meier will be broadcasting live from Hofbrauhaus Chicago. Join us for great lunch and dinner offers and plenty of entertainment, including a keg tapping ceremony with Garry himself!
5:00 pm ♦ One Wild Night 2013
SmallBar Division, 2049 W. Division St., Chicago
As has become a tradition in this short cold month of February, join us for our third annual Sour Night featuring wild fermented ales and traditional lambics. This year's lineup includes more domestic offerings than ever before, a sure sign of the surging popularity of the style.
Beers listed here are confirmed. We have several more very exciting additions we are still working to finalize and get in house and will update the list as they are confirmed.
5:30 pm ♦ Firkin Friday: Solemn Oath Psychogaze
Bavarian Lodge, 1800 Ogden Ave, Lisle, IL
For this week's Firkin Friday feature, we're happy to present Solemn Oath Psychogaze. Luscious roasted, toffee, and chocolate malt flavors are balanced by fruity, earthy hop notes in this medium-bodied, robust porter. As an added feature, this beer is specially dry-hopped in-cask with Falconer's Flight hops. Another decidedly awesome creation from our friends at Solemn Oath. The cask will be tapped at approximately 5:30 pm at the bar. Its delicious contents will be available to everyone in both the restaurant and pub until the firkin runs dry.
6:00 pm ♦ Firkin Friday with 3 Floyds
Lincoln Station, 2432 N Lincoln Ave., Chicago (773) 472-8100
Tapping a 3 Floyds Alpha King cask! Will also have 3 other FFF drafts available.
6:30 pm ♦ Wildfire-Schaumburg Fish Fry Beer Dinner
Wildfire Schaumburg, 1250 E. Higgins Rd., Schaumburg, IL (847) 995-0100
Enjoy a Friday night fish fry, Wildfire style! Our Executive Chef has created a custom four course menu, each paired with a variety of craft brews from Bear Republic, Boulevard, Southern Tier & Revolution Brewing. Registration for the event begins at 6:30 p.m., followed by seated appetizers at 6:45 p.m. and is priced at $50.00 per person, plus tax & gratuity. For more information or to make a reservation, please call Brad Wermager at 773-398-6960.
7:00 pm ♦ Virtue Cider Dinner at 2 Sparrows
2 Sparrows, 553 W. Diversey Pkwy., Chicago (773) 234-2320
Join the Virtue Cider team at 2 Sparrows in Lincoln Park for a fun filled night of great food and cider! Hosted by Virtue's Gregory Hall and 2 Sparrows Gregory Ellis and Steven Fladung.
The menu, which will be five courses, will be served with a complementing ciders. Menu TBA shortly as will more dinner details. Please call 2 Sparrows for reservations (773) 234-2320
Saturday, Feb. 23
National Banana Bread Day

Every food has a holiday, including Banana Bread! So let's CELEBRATE! The following locations around Chicago are going to help us do just that by pouring Wells Banana Bread Beer! HUZZAH!
Here are some of the places you can find it!
Wells Banana Bread Draft at: The Green Lady, Smallbar Logan Square, The Beer Bistro, The Beer Bistro North, Headquarters Beercade, Tap House Grill Oswego, Tap House Grill Plainfield (also Homemade Banana Bread), Tap House Grill Westmont (Homemade Banana Bread and Banana Sundaes!), and World of Beer Naperville (Chocolate Covered Bananas, Wells Banana Bread & Young's Double Chocolate Stout!). Bottles & Cans - Glassware Giveaway with purchase of Wells Banana 4pk! Plus Joe's famous Banana Bread! Facebook Events Page.
10:00 am ♦ Flossmoor Station Barrel-Aged Bottle Release
Flossmoor Station Restaurant & Brewery, 1035 Sterling Ave., Flossmoor, IL (708) 957-BREW
Releasing Fireside Chat, an 11% BA Barleywine and it is smooth and delicious! This beer will make you thankful for cold winter mornings! Tickets begin at 10 am, 6 bottle limit person (means the first 110 people are guaranteed bottles). $15/bottle
11:00 am ♦ Goose Island Tap Takeover at Timothy O'Toole's
Timothy O'Toole's Pub 622 N. Fairbanks Ct., Chicago (312) 642-0700
We are doing an all-day Tap Takeover with Goose Island. Tickets are $40 & include six 5 oz. samples, a Goose Island Invasion Pint Glass, an O'Toole's Key Chain & Food Pairings. Tickets are available for purchase at the bar or online
2:00 - 3:00 pm ♦ Mickey Finn's Beer Class
Mickey Finn's Brewery, 412 N. Milwaukee Ave., Libertyville, IL 847-362-6688
Beer Class at Finn's. Taste, talk about and learn about beer and the brewing process. Hosted by our very own Greg Browne. Admission is free. Bring a friend but let us know your coming so we can have enough "samples" for everyone. Facebook Events page.
2:00 - 5:00 pm ♦ American Craft Beeruption
Malloy's Finest Wines, 1020 Maple Ave, Lisle, IL 630-271-0707
Malloy's Finest's Lisle location has become famed over the last few years for hosting it's large semi-annual wine tasting events. In the recent past we've been asked, 'where's the beer?' Well friends, we will be featuring old standbys as well as newcomers to the area in what promises to be the largest beer event Malloy's has ever hosted. The beer and the weather may be ice cold, but the bevy of brewed beverages will surely warm your heart.
Believe us, this one is not to be missed!
2:00 - 6:00 pm ♦ Saturday Tastings
The House of Glunz, 1206 N. Wells St., Chicago
An in-store, open house tasting featuring new arrivals, seasonal specials and end-of-bin deals. Saturday Tasting, unless otherwise stated, are always free of charge with no reservations required.
3:00 - 5:00 pm ♦ New Holland Beer and Booze Pairing
Paramount Room, 415 N. Milwaukee Ave., Chicago (312) 829-6300
The two great tastes that taste great together just got kicked up a notch! Enjoy New Holland Beers paired with New Holland Artisan Spirits at this special event.
Side-by-side flights perfectly paired:
Full Circle Kolsch w/ Knickerbocker Gin
Dragon's Milk Barrel-aged Stout w/ Beer Barrel Bourbon
Mad Hatter IPA w/ Hatter Royale Hopped Whiskey
Night Tripper Imperial Stout w/ Superior Rum
$30 + gratuity. Includes all 4 pairings as well as snacks prepared and provided by Paramount Room. Cocktails featuring New Holland Artisan Spirits also available for purchase.
7:00 pm ♦ Goose Island Tap Takeover

Ballydoyle Irish Pub & Restaurant, 28 W. New York St., Aurora, IL (630) 844-0400
Don't miss out when we tap 8 amazing Goose Island beers… They will go quick so be here by 8 to make sure that you get to try all the limited release beers!!!
Bourbon County Stout, Bourbon County Cherry Stout, Bourbon County Coffee Stout, Big John, Night Stalker…
Just to name a few!!!!! And the first 50 people through the door to order Goose Island will get a great Goose Platinum Glass to take home as a souvenir!!!
Sunday, Feb. 24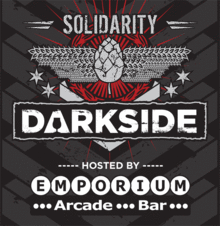 SOLIDARITY :: DARKSIDE
Emporium Arcade Bar, 1366 N. Milwaukee Ave, Chicago (773) 697-7922
Solidarity: Darkside, hosted by The Emporium Arcade & Bar, is the next installment of celebrating hardcore craft beer in Chicago. This event explores the world of dark beer by offering 22+ taps of good, dark stuff. Tickets are $25 at Brown Paper Tickets.
The breweries that are lining up to pour it black: (List subject to minor changes)
Bell's Black Note & Cherry Stout; Revolution Rise American Stout & Very Mad Cow Bourbon Barrel Milk Stout; Half Acre Two Tugs Brawny Brown & Big Hugs Imperial Stout with Coffee; Founders Imperial Stout & Breakfast Stout; New Belgium Imperial Chocolate Coffee Stout & 1554 Enlightened Black Ale; Stone 11.11.11 Vertical Epic, Great Lakes Blackout Stout & Edmund Fitzgerald Porter, Two Brothers Northwind Imperial Stout; Left Hand Wake Up Dead Imperial Stout - Fade to Black Vol. 4, New Belgium, Victory Baltic Thunder, Deschutes Obsidian Stout on nitro, Three Floyds In The Name of Suffering & Mushy P Porter; Greenbush Dystopia Russian Imperial Stout; and Lagunitas Imperial Stout & Cappuccino Stout.
Each ticket includes 32 oz (broken down into 8 samples) of hardcore craft beer, so you can try some of the brews you haven't gotten to before, and there is always the option of purchasing a full pour of a favorite. The Emporium also features a full on arcade and each ticket includes a large bag of game tokens. Check out their website for a list of games.
Sunday, Feb. 24
4:00 pm ♦ New Holland Artisan Spirits Cocktail Supper
Farmhouse Tavern, 228 W. Chicago Ave., Chicago 312-280-4960
Just as they do on the farm – join New Holland's Spirits Manager, Rich Blair. for an early Sunday supper at Farmhouse.
Five delectable courses, beginning with passed hors d'oeuvres – paired with New Holland Artisan Spirits – including cocktails made with the popular Beer Barrel Bourbon and Freshwater Superior Single Barrel Rum.
Check the website for the current menu. Cost: $75 + gratuity. For reservations: (312) 280-4960
---
Follow me on Twitter, Google+ or my Facebook fan page. For more tappings and events, check my Google Calendar. And view my One-Take Beer Review Videos