So sorry about the extended absence. Had a family visit that involved kids getting sick and staying a few extra days in Iowa. So I just had to skip the whole week and pick up at this point. And there are a lot of events in the lead up to St. Patrick's Day. These are the highlights; there are more calendar listings at chitownontap.
Monday, March 12
5:00 p.m. • Hopslam firkin tapping at Farmhouse Chicago
Farmhouse Chicago, 228 W. Chicago Ave., Chicago (312) 280-4960
Farmhouse Chicago will be tapping a firkin of Bell's Hopslam Double India Pale Ale, the last one in Chicago until 2013.
5:00 p.m. • Lagunitas Tap Takeover at Scofflaw
Scofflaw, 3201 W. Armitage Ave., Chicago
For Scofflaw's grand opening, featuring beers from our friends at Lagunitas including Pils, IPA, Hairy Eyeball, Cappuccino Stout, Fusion 7, WTF, Imperial Red, Maximus and others. No Cover.
5:00 - 8:00 p.m. • The Craft of Stone Brewing Night
Fountainhead, 1970 W. Montrose Ave., Chicago 773-697-8204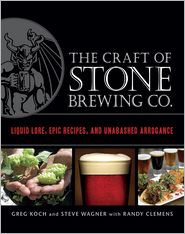 If you ever wanted to know more about how Stone Brewing Co. got their start, what they really are about, their history, about their collaborations… you need to join us. Stone Regional Sales Manager, Jason Armstrong and Chicago Stone Rep Aaron Tyrell will be on hand to answer any of your question. We will be selling copies of the book
The Craft of Stone Brewing Co.:, the List price is $25 but, we will be selling copies signed by CEO & Co-Founder of Stone Brewing Co. Greg Koch for just $20!
Chef Sarah will be making a few recipes direct from the book as well as creating a few specials designed to perfectly pair with Stone beers, viewable at the event's Facebook page.
6:00 - 8:00 p.m. • Meet the Brewer: Manu De Landtsheer
Bangers and Lace, 1670 W. Division St., Chicago (773) 252-6499
The great revivalist brewer of Brouwerij De Landtsheer - Emmanuel 'Manu' De Landtsheer, all the way from Buggenhout, Belgium will be at Bangers & Lace! We will have both Malheur 10 & Malheur 12 on draft, as well as bottles of Malheur Dark Brut & Malheur Brut Reserve. Don't miss an opportunity to enjoy a fine Biere Brut with its maker. No Entrance Fee.
6:30 - 8:00 p.m. • Binny's Beer School Featuring Xingu, Palma Louca & 5 Rabbit
Binny's Lincoln Park, 1720 N. Marcey St., Chicago (312) 664-4394
Binnys Marcey Street wants you to go back to school...BEER SCHOOL! Featuring food pairings from Sullivan's Steakhouse and Brazilian Beers - Xingu and Palma Louca and beers from Chicago's own 5 Rabbit Brewery: 5 Rabbit and 5 Vulture. $20 minimum donation to the WGN Neediest Kids Fund. Call (312) 664-4394 to reserve your spot.
6:30 p.m. • Goose Island Old Town Yard Meet the Brewer
Long Room, 1612 W. Irving Park Rd., Chicago (773) 665-4500
Come out to Long Room, meet a brewer, and get a chance to try Goose Island's latest innovation beer: Old Town Yard Helles Lager! Long Room will also be sampling 2009 and 2010 vintages Bourbon County Brand Stout!
6:30 - 9:00 p.m. • Wildfire beer dinner with Summit Brewing
WildFire Oakbrook, 232 Oakbrook Center Oak Brook, IL (773) 398-6960
Join us for our monthly beer dinner series featuring Summit Brewing Company, a regional craft brewery in St. Paul, Minnesota, that brews a wide selection of popular beers. Our Executive Chefs have created a five course custom menu to pair with some of Summit's finest ales! The evening begins with a reception at 6:30 p.m., followed by dinner at 7:00 p.m. The event is priced at $45.00 per person, plus tax & gratuity. For more information or to make a reservation, please call Brad Wermager at (773) 398-6960.
Tuesday, March 13
6:00 - 9:00 p.m. • Meet the Brewer featuring 2010 BCS
Durty Nellie's Pub, 180 N. Smith St., Palatine, IL (847) 358-9150
Come out to Durty Nellie's, meet a Goose Island Brewer and get a chance to drink a cellared barrel of 2010 Bourbon County Brand Stout!
6:00 - 8:00 p.m. • Tighthead Beer Dinner
Park Street, 14 E. Park St., Mundelein, IL (847) 949-1900
Enjoy a Five course dinner to compliment craft beer from Tighthead Brewing Company of Mundelein. Call (847) 949-1900 to make your reservation. First come first serve, limited seating available.
6:30 - 10:00 p.m. • Walt Looney Brewer's Dinner
Haymarket Pub & Brewery, 737 W. Randolph St, Chicago (312) 638-0700
5 Course Brewer's Dinner featuring: Bambi - House made venison sausage with juniper berries. Bugs & Babe - Rabbit & Pork Rillette. Sebastian - Crab & Corn Chowder. Daffy - Duck Leg Confit. Porky & Gabby - Blueberry Braised Bacon with blue goat cheese & blueberry sorbet. All poured with amazing house beers! $45 plus gratuity. Please call for reservations - seating is limited!
7:00 p.m. • Crown Brewing Beer Dinner
Station 21 American Grill, 201 N. Main St., Crown Point, IN (219) 661-0021
Join Station 21 and Crown Brewing for a fun night of beer and food tasting. The Station 21 culinary team and the brewers at Crown combined efforts to create a truly beer infused menu. The dinner (Menu here) will be held at Station 21 on March 13th at 7:00pm. The cost of the dinner is $50, which includes five half pints of beer, five courses and a collectible pint glass. Cheers!! Menu at
7:00 - 10:00 p.m. • Taste for a Cure at Rockwell's Neighborhood Grill
Rockwell's Neighborhood Grill, 4632 N. Rockwell St., Chicago (773) 509-1871
Rockwell's loves beer, but more than that, we love lending a helping hand. Join us March 13th to help us raise funds for a very special cause: The Alzheimer's Association In association with The Mae Bell Ward Foundation, Rockwell's hosts "Taste for a Cure." Ten local breweries are donating some very special brews for tasting, and we'll be making some wonderful beer-inspired foods. Plus, every guest will receive a 4 oz souvenir tasting glass. But that's not all: We're also holding TWO raffles. Tickets to the event are just $35, and space is limited so either call us at (773) 509-1871 or just stop by.
7:00 p.m. • Two Brothers Beer Dinner
Jimmy's Grill, 245 S. Washington St., Naperville, IL (630) 548-2500
Five course dinner prepared by executive chef Travis Rodriguez paired with Two Brothers Beers. Cost is $40 per person and reservations are a must, call (630) 548-2500 for further details.
Wednesday, March 14
3:14 p.m. • Pi Observance Day Beer Event
Local Option, 1102 W. Webster Ave., Chicago (773) 348-2008
On March 14th at 3:14:00 p.m. Local Option will host Pi Observance Day. The event commemorates the mathematical constant Pi; the finest harmonic distortion-sustain device developed to date; and the signature sandwich of New Orleans, the Muffaletta, by tapping thirty-one of the loudest beers on earth. Highlights include new and rare offerings.
Draft List: Against The Grain Scotland Charred; Bell's: Expedition Stout & Oracle; Dark Horse: Double Crooked Tree & Plead The Option, Dilewyns Vicardin Triple Gueuze; Emelisse: Peated Russian Imperial Stout & Rauchbier; Grassroots Kolval; Great Divide Espresso Oak Aged Yeti; Hopfenstark: Belgian IPA, Berlin Alexander Platz Epilogue, Captain Swing Barley Wine, Faust Triple, Greg American Foreign Harvest Stout, Kamarad Friedrich Russian Imperial Stout, Ostalgia Rousse, Saison Station 55, Saison Station 7, Seven Sisters - Maïa and Baltic Porter de LAncrier; Jolly Pumpkin Maracaibo Especial; Local Option: American Muscle, Anthony of Bourdainia, Dampf  Loc, and Morning Wood; Lost Abbey Deliverance; Mikkeller/ATG Bloody Show; Three Floyds: Behemoth, Stygian Darkness, and Zombie Dust. $2 quarter Muffuletta will be served to the feeble.
4:00 p.m. • Wednesday Tapping at Tribes Alehouse
The Tribes Alehouse, 11220 W. Lincoln Hwy, Mokena, IL (815) 464-0248
Mikkeller/Three Floyds Collaboration: Boogoop & Brian Boru
5:00 - 7:00 p.m. • Finch's Night at Monk's Pub
Monk's Pub, 205 W. Lake St., Chicago (312) 357-6665
Stop in to taste Golden Wing Blonde Ale and Cut Throat Pale Ale from Finch's Beer Company right here in Chicago! Kristin from Finch's will be here too!
5:00 - 7:00 p.m. • March Mixology Madness
Franklin Tap, 325 S. Franklin, Chicago (312) 922-8025
Join Tracy Hurst of Metropolitan Brewing and Meg Bell of Koval Distillery to sample some of their newest recipes and to chat about what it's like to be at the forefront of Chicago's craft beer and small batch liquor scene. Please call for reservations. More info.
6:00 - 9:00 p.m. • Founders Beer Dinner
WaterShed, 601 N State St, Chicago (312) 266-4932
WaterShed will be having our second Beer Dinner featuring Chef Luke Creagan's delicious small plates paired with the fine brews from one of our favorites, Founders Brewing Co. Reservations for the dinner are available between 6 and 9 pm; Four Courses and Five Beers, $45 per person. Send us an email via our website if interested (use the "Beer Dinner" drop down), and we will fill you in on all the tasty details and take your reservation. Facebook.
6:00 - 9:00 p.m. • The Ultimate Irish Experience Beer Dinner
Tommy Nevin's, 9680 Lincolnway Lane, Frankfort, IL (815) 464-1000
Six course meal with Irish beer & whiskey pairings by Executive Chef Marcus Mooney. Live Irish music and bagpiper. gifts & raffles from Guinness and Tommy Nevin's!  RSVP Required.
7:00 p.m. • Hopslam tasting and Beer School
Duke's Alehouse and Kitchen, Crystal Lake, IL (815) 356-9980
Learn about beer at Duke's with Bell's Brewery and a rare pouring of Hopslam! Tickets are $15 per person and include samples of plenty of fantastic beers, snacks, and beer knowledge. This month we will be featuring Irish Ales and sampling Great Lakes Conway's Irish Red, Boulevard Irish Ale, Innis & Gunn Irish Whiskey Cask Ale and good old Guinness. You will also learn to pour that perfect pint of Guinness. Call (815) 356-9980 for reservations.
Thursday, March 15
11:30 a.m. • March Madness at The Bank
The Bank, 123 W. Front St., Wheaton, IL (630) 665-2265
Kick off the Madness of March at the Bank Restaurant & Bar. Tipoff is Thursday, and includes a Shiner & Bridgeport Beer event from 3:00 − 6: 00 p.m. $3 Shiner Bock all day, and 35 giveaways during the event. Also being served: Bridgeport Raven Mad: Limited run 7.5% above Porter aged in whiskey barrels & oak. Kingpin: 7.5% double red. Dark Rain: 5.6% Black Pale Ale Shiner Dortmunder: 5.5% Classic Export Lager Plus Tumer Pils Draft. All available in 5 oz. tasters, 3 for $5 or 7 for $10. Shiner Bock will remain on special at $4 all through March, excepting St. Pat's Day.
5:00 - 7:00 p.m. • 312 Can Release Party at Big Bowl
Big Bowl, 60 E. Ohio St., Chicago (312) 951-1888
Come out for Goose Island's 312 Can Release Party at Big Bowl! Specials and fun will abound: Free passed appetizers; Raffle prizes: Goose Island giveaways including a brewery tour (valued at $10 per person), a special edition mirror, limited edition glassware, Big Bowl certificates; Drink specials on 312 Cans.
6:00 - 8:00 p.m. • KBS Vertical (NEARLY SOLD OUT!)
Sheffield's Beer & Wine Garden, 3258 N. Sheffield Ave., Chicago (773) 281-4989
It's time.... to release our stash of Founders Kentucky Breakfast Stout!!! Join us on March 15 for an offering of '09, '10, '11, '12 KBS vertical tasting. A second session of '10, '11, '12 will be offered at 8:00 p.m. Go here for tickets to the 4 yr Vertical to buy tickets or Go here for the 3 yr Vertical to buy tickets There is a very limited availability for these events so get you tickets now before it's all  gone...forever!
6:30 p.m. • Goose Island Beer Dinner at Jenny's Mokena
Jenny's Steakhouse, 10160 W. 191st St., Mokena, IL (708) 479-6873
Kick off your Saint Patty's weekend with a 4 course dinner paired with some of the finest Goose Island Beers. Our delicious 4 course dinner is prepared by Chef Oscar and the Goose Island Beer is presented by JimDeBolt. $38.95 for a game hen selection, $44.95 for a ribeye selection. Tax and service additional. Reservations are required.
6:30 p.m. • Old Town Yard - Meet the Brewer
Acre Restaurant, 5308 N. Clark St., Chicago (773) 334-7600
Come out to Acre, meet a brewer, and get a chance to try Goose Island's latest innovation beer: Old Town Yard Helles Lager!
7:00 - 10:00 p.m. • ET TU WINDY? Windy City Tap Takeover
Bar on Buena, 910 W. Buena, Chicago (773) 525-8665
BEWARE THE BEERS OF BUENA!! Join us during "The Ides of March" for a special selection of brews from our friends & colleagues at Windy City Distribution. We'll have a royal line-up of beers worthy of Emperor Caesar himself including: Allagash Bourbon Black Ale, Great Divide Espresso Oak-Aged Yeti, Two Brothers 2011 Bare Tree Wheat Wine Ale, Avery Maharaja Imperial IPA, Spezial Rauchbier, Timmerman's Framboise, Victory Donnybrook Stout, and a special Vander Mill Cider selection.  Togas, sandals & laurel wreaths are optional. "I Came, I Saw, I  [Drank Beer]"- Julius Caesar (sic) Facebook info.
Follow me on Twitter, Google+ or my new Facebook fan page. For even more tappings and events, check my calendar on Chitownontap.com.