Another "Lost Weekend" for me, and not the booze-soaked Ray Milland type, either. Let's just try to catch up with our main beer events, and check the ChiTownOnTap calendar for details about beer dinners, etc.
Monday, March 26
5:00 p.m. - 12:00 a.m. Dark Night with Dark Horse
Fountainhead, 1970 W. Montrose Ave., Chicago (773) 697-8204
Our Beer Director, Phil Kuhl, is pulling out all the stops with this event. As you probably know, Dark Horse has a line of stouts: One-Oatmeal, Too-Cream, Tres-Blueberry, Fore-Smoked, & Plead The Fifth-Imperial Stout. We will be putting on all of these, as well as the collaboration they did with City Provisions, the Sarsaparilla Six. We will also have a few other "Dark Drafts" pouring. This night is gonna be crazy. But, it gets even  better. We will be playing Dark Side of the Moon
and watching The Wizard of Oz
on the TV. Come on, it doesn't get any cooler than this! Facebook info.
6:00 p.m. Bell's Oberon Annual Release Party
Sheffield's Lakeview, 3258 N. Sheffield Ave., Chicago (773) 281-4989
Our annual kick-off party for Bell's Oberon season at Sheffield's will feature a raffle with prizes along with giveaways. There will also be a few specialty drafts available that night as well.
6:30 p.m. Wild Onion Brewery Beer Dinner at Tokio Pub
Tokio Pub, 1900 E. Higgins Rd., Schaumburg, IL (847) 278-5181
A four-course beer dinner featuring Lake Barrington-based Wild Onion Brewery will feature hoppy numbers like Hefty Weiss, Paddy Pale Ale, Hopslayer Double IPA, and Jack Stout. Fee: $30.00 Menus & reservations at this link.
7:00 p.m. Revolution Spring Vegan Beer Dinner
Revolution Brewery, 2323 N. Milwaukee Ave., Chicago 773-227-BREW
Join Revolution Brewing's spring vegan beer dinner, Roll Into Spring. Purchase your spot online and show up to enjoy a multi-course meal paired with 6 Revolution beers. With spring in the air, this dinner focuses on some of life's more delicate flavors bursting up from the ground. This is an e-ticket. Sign up for the event at revbrew.com/vegandinner Show your ID and credit card at the door. No refunds or exchanges. All guests that purchase tickets together need to show up together.
Tuesday, March 27
6:00 - 8:00 p.m. Oberon Release Event
Binny's South Loop, 132 S. Jefferson St., Chicago (312) 768-4400
$5 Buys Your First Pour of Oberon RSVP: 312 768-4400 It's not just Oberon! We have three other Bell's taps lined up for the event, including Two Hearted (from a firkin!), Consecrator, and Hopslam, along with our rotating taplist of great beers. Also, we'll have some swag giveaways, which is always fun.
6:00 - 9:30 p.m. Southern Tier Beer Dinner at Wild Monk
Wild Monk, 88 S. La Grange Ave., La Grange, IL (708) 255-2337
$45 per person. Check the web site for details.
6:30 - 8:00 p.m. What's Brewing in Chicago? The Politics of Beer with Pete Crowley and Liz Garibay
Haymarket Pub and Brewery, 737 W. Randolph St., Chicago (312) 638-0700
The Public Square presents a lively conversation on the politics of beer—past and present. Join us to take a look back in Chicago's history as the beer capital of the world then fast forward to the rise of microbreweries today. Plus, an original performance piece by Chicago poet and performance artist Stephanie Gentry-Fernandez! Featured guest speakers: Elizabeth Garibay, public program manager at the Chicago History Museum and founder of the Tales, Taverns & Towns web project, and Pete Crowley, owner of Haymarket Pub and Brewery and president of the Illinois Craft Brewers Guild. Free and open to the public. Reservations are required, reserve your spot here. For more information, call (312) 422-5580.
7:00 p.m. New Holland beer dinner
Burger Bar Chicago, 1578 N. Clybourn Ave. Chicago (312) 255-0055
Check the website for menu.
7:00 - 9:00 p.m. Two Brothers Beer Dinner
Heaven on Seven, 224 S. Main St., Naperville, IL (630) 717-0777
Join us as we team up once again with one of our favorite (and local) breweries, Two Brothers of Warrenville. We've put together a seven course dinner paired with eight craft brews from Two Brothers for you. Our last Two Brothers dinner sold out, so be sure to make your reservations soon. You can register at this link or call us at (630) 717-0777.
7:00 p.m. - 12:00 a.m. Two Brothers Red Eye Release
DMK Burger Bar, 2954 N. Sheffield @ Wellington, Chicago
Eyes Open Please! Red Eye Porter is the first of Two Brothers' 15 archive recipes we will brew to celebrate our 15th anniversary. Red Eye debuted in the Spring of 2009 and quickly won acclaim from the public and press alike. We brewed it a second time, which was the last time we made it, in the fall of 2009. Since then it has easily become the most requested beer for us to bring back (like almost every day). Join us for the release at DMK Burger Bar. There will be a special pairing and raffle items available!
Wednesday, March 28
3 Floyds Tap Takeover at Acre
Acre Restaurant, 5308 N. Clark St., Chicago (773) 334-7600
We're going to have over 15 different Three Floyds beers in a tap take over of sorts. But can't you give us a hint of what will be there, you say? Mmmm, maybe a little thing called Stygian Darkness. Go ahead, look it up. We dare you. Hope to see you there. It's going to be a blast.
4:00 p.m. Wednesday Tapping at Tribes Alehouse
The Tribes Alehouse, 11220 W. Lincoln Hwy, Mokena, IL (815) 464-0248
Dogfish Head Hell Hound on My Ale and Noble Rot
5:00 - 7:00 p.m. Sam Adams Tasting and Giveaway
Franklin Tap, 325 S. Franklin, Chicago (312) 922-8025
Representatives from the Boston Beer Co. will be in house to sample their old favorites and newest recipes, and to give away a limited edition Sam Adams beer tasting kit. Click here to make a reservation.
5:00 - 7:00 p.m. St. Feuillien Night at Monk's Pub
Monk's Pub, 205 W. Lake St., Chicago (312) 357-6665
Adam from Artisanal Imports will be here tasting out St. Feuillien beers and giving away glasses to customers with their purchase.
5:30 - 8:30 p.m. Duvel Art Glass Event
Firkin, 515 N. Milwaukee Ave., Libertyville, IL (847) 367-6168
For every two Duvel or Duvel Single's you buy you get to keep a limited edition Duvel Art Glass while supplies last. Facebook Info.
6:00 - 10:00 p.m. Founders' Beer and Slider Pairing
Sheffield's Beer & Wine Garden, 3258 N. Sheffield Ave., Chicago (773) 281-4989
We will be featuring six Founders beers with six delicious sliders made by our Chef VJ Muscia. There will be 3 groups of sliders, each group costs $12 and contains two sliders and two tasters of beer.  Facebook Info
6:30 p.m. Beer Academy - Belgian Styles
Goose Island Clybourn, 1800 N. Clybourn, Chicago (312) 915-0071
$20 per person. Join Head Pub Brewer Jared Rouben on the last Wednesday of each month at the Clybourn Brewpub to learn about a different beer theme. Enjoy a sample of different beers from various craft breweries. To RSVP call (312) 915-0071.
7:00 - 10:00 p.m. Oberon Party at The Beer Bistro
The Beer Bistro, 1061 W. Madison Ave., Chicago (312) 433-0013
The Oberon will be flowing! There will also be raffles and prizes.
Thursday, March 29
6:30 - 9:30 p.m. "Beer with Me" with Stone Brewing Co. co-founder Greg Koch
The Grille On Laurel, 181 E. Laurel Ave, Lake Forest, IL (847) 234-9660
San Diego's famed Stone Brewing Co. is proud to mark two solid years of distribution to Chicago. To celebrate, CEO & co-founder Greg Koch is making a trip to the Windy City from March 29-31 for three stellar events. Thursday's event is "Beer With Me (It's For The Kids)." Greg will be pairing five unique Stone beers with delectable dishes specially prepped by The Grille on Laurel. Tickets are $125 per person($150 at the door), and are available for purchase here. Ticket sales and a silent auction will benefit the Boys & Girls Club of Lake County and the "I Have A Dream" Foundation. Ticketholders will also get their choice of one of Greg's books (signed):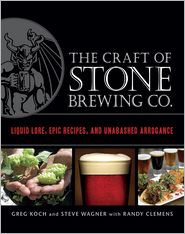 The Craft of Stone Brewing Co.: Liquid Lore, Epic Recipes, and Unabashed Arrogance, or The Brewer's Apprentice: An Insider's Guide to the Art and Craft of Beer Brewing, Taught by the Masters
. Thank you to our sponsors: The Grille on Laurel, Stone Brewing Co., Lake Forest Books Lake Forest Bank and Trust Knauz.
7:00 p.m. Three Floyds: Night of the Flight Vol I
Tap House Grill, 6010 S. Cass Ave. Westmont, IL (630) 541-8840
Join us as we tap four of Three Floyds' newest beers. All four beers will be available as a flight for $12, and will include an amuse-bouche. Individual beers will also be available. Beers include Cimmerian Sabertooth Berzerker, Tiger Jelly, Powder Burns and Boogoop (Mikkeller Collaboration). Westmont location only. Contact: Rafael Gomez Alyssa Cornett Kristy Luurs Ashly Youngfelt Krissy Contorno (630) 541-8840.
Follow me on Twitter, Google+ or my new Facebook fan page. For even more tappings and events, check my calendar on Chitownontap.com.