I'll  admit it: I'm a lazyass. I mean, when it counts I'll get 'er done, but if I am out of coffee filters (for a week), paper towels always trump a trip to the grocery store.I can't recall if I have always been like this. Or, more likely, I am too lazy to actually sit here and try to remember. Whatever.
There has to exist an army of us, right? Those who download the Roku app just because the remote is out of toes' reach?
But let's not stop there. While I detest folks who will leave you bare-bottomed sans toilet paper, it takes a miracle for me to put it on the  holder. And when I do, I always think to myself: "Huh, that was easy. I should do it more often."
Blue has been my go-to toe nail polish color for three months. And by go-to, I mean it was applied three months ago and it shows.
I don't know my own age. OK, I do, but honestly it's because my friends recently did the math. Yes, I could sit here and do some simple 'rithmatic, but no one cares anyway.
When Mr. Swirley travels, I basically subsist on cereal. EK will always get a well-roundedish meal, but apparently it's beyond me to make two servings.
I have 10,000 different online passwords. OK, so does everyone. But that "password book" is rendered moot when I just reset any given log-in when faced with an emergency aka the NEED to download an a sweet jam from Amazon RIGHT NOW!
And while we are on technology, I somehow programmed my work email somehow under Mr. Swirley's name in my phone. It takes more time to type this sentence than to straighten out this mess, but do I do it? Obviously not. Instead I continue to search under my husband's name if I want to email myself something.
This. Sweet mother of pearl, I taped my kid's swaddle shut.
Travel. This one drives EVERYONE crazy. I don't see the big deal in living on the edge and actually checking your take-off time the morning of. We've only missed a flight ONCE (cue eyeroll) and booked the wrong travel dates once twice. It's an adventure!
Keys? Phone? Meh, unnecessary.
Just so you don't think I am so lazy that I can't function I WILL:
- Drive out to my mom's house (10 miles in city traffic) multiple times in a single day because I am too disorganized to cover everything in one trip.
- Take my kid to the recycling yard to see cars smashed and inhale possibly toxic fumes.
- Write Christmas cards. Most are also mailed.
- Stalk a particular person at a rummage sale for an hour so I can get my hands on a discounted Ergo carrier (don't lie, you would do the same).
- Travel to a neighboring state to attend Pierogifest.
That's all I've got. Oh, and that Roku app works like a dream.
What types of laziness do you have going on? Join the tribe and share.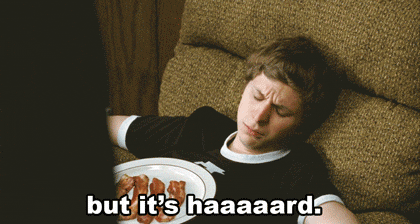 No one ever accused me of being rational. Follow Swirleytime on twitter @swirleytime and Facebook for interesting stories, links and a lot of self-deprecating humor.
Don't rely on fickle Facebook for updates. Subscribe to Swirleytime below for more stories of screw-ups and weird observations. Type your email address in the box and click the "create subscription" button. My list is completely spam free, and you can opt out at any time.