Here it is: I've always had a love/hate relationship with my hair.
Every Saturday morning, I begged my mother to hot comb my hair bone straight so that I could show off my mid-back length. For those of you who don't know what a hot comb is: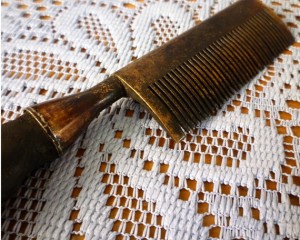 Yes, it is that ancient looking piece of iron that sits on your stove top under FIRE until it is nice and hot. It makes the hair bone-straight. It also could leave a nasty scar if it slipped out of the fingers.
I've learned that the hard way.
Regardless of the risk, I still pushed for straighter hair.
To my dismay, as soon as the next humid day hit or I went swimming, the little fuzzy curls would make their way back on my head and my hair would shrink to my chin. I was embarrased that my hair didn't hang down my back after I came out of the pool.
I hated that my roots were reddish and dingy and not jet black like the girls on television.
I used buckets of brown, sticky gel to slick my hair into ponytails and granny-esque bonnets to protect me from the rain. Resorting to a shopping bag as a haircover was not beneath me.
Sexy, isn't it?
Saturday mornings were draining as I spent them at the hair salon attempting to get my hair as straight as possible.
My curls would be steadfast in defiance. There's no way I could shake them. They were apart of me. I had my hair dyed jet black only to have the lighter roots make an appearance days after.
My hair was punishing me by forcing me to waste valuable time and money. The curls, a mix of many ethnicities, were trying to teach me a lesson.
After years of fighting the fro, It wasn't like I woke up one day and decided that I should be ashamed of the damage I was causing my hair.
It took some tough love:
My dad asked me,
"Why do you put all that shit in your hair? That's the hair I gave you. You've got hair like me!"
Damn, he was right!
Immediately, I was devastated...I felt so low.
All of this time I had been trying to erase my curl but I realized, I was erasing my heritage.
It isn't as though I have taken on a movement, I just decided to love ME. It's been a LONG time and I haven't been able to part with my curls. After all of that time thinking my hair was hard to manage, once I left it alone, it was the easiest task to accomplish.
I wash and go...forget that hot comb.
I hope that whatever you do with your hair, whatever your ethnicity, you don't forget that your hair is a great legacy and you should be proud of it.
You should be proud regardless of what is mainstream and if you decide to do other things to it, then fine..but don't forget your ROOTS.
Please leave your comments in the section below and while you're at it, follow me on Twitter @TheRealJoyRene and find me on Facebook too, http://www.facebook.com/joyrsinegar.
Yep, you're welcome!