Sue Regis of Regis Glass Art is bad-ass.
She is an innovator in the glass design world.  She stays true to her roots...and yes, she's gay.
No apologies.
Regis Glass Art is a one woman show.  Every piece Sue sells is designed and created by her torch.
Yeah, torch..I told you she's bad-ass.
It all began back in '96 when Sue's parents told the Joliet Central High School graduate that skipping out on higher learning was not an option: "They told me that they didn't care what I did as long as I took some classes at the local Junior College." Sue took jewelry making which included designing glass beads.
Her love affair with glass began.
Sue's parents, who have been ultra supportive of her, sprung for the equipment and even let her set up a workshop in their basement. "My parents are the greatest. If it weren't for them, I wouldn't be doing what I love. You kinda have to wonder what the hell they were thinking letting an 18 year old play with fire in their basement. I guess they were happy that I had found my gift."  As a result of that trust, Sue Regis taught herself the skill of mastering the glass.
Regis admits that the road to success has been tough because of a learning  disability and Dyslexia, yet she has a great team: "I have so many friends helping me every step of the way." In addition, Sue credits her art as a way to express herself in a way that doesn't involve words. "I speak through my art."
Over a decade has passed and Sue Regis has been working like a mad scientist locked up in her lab located within Friends of Community Public Art since 2008. This non-for-profit organization allows artist to explore and practice their crafts in one of their many studios.
Regis Glass Art does many things:
1. Memorial pieces infusing the cremains of the departed into the actual glass for Tezak's Home To Celebrate Life.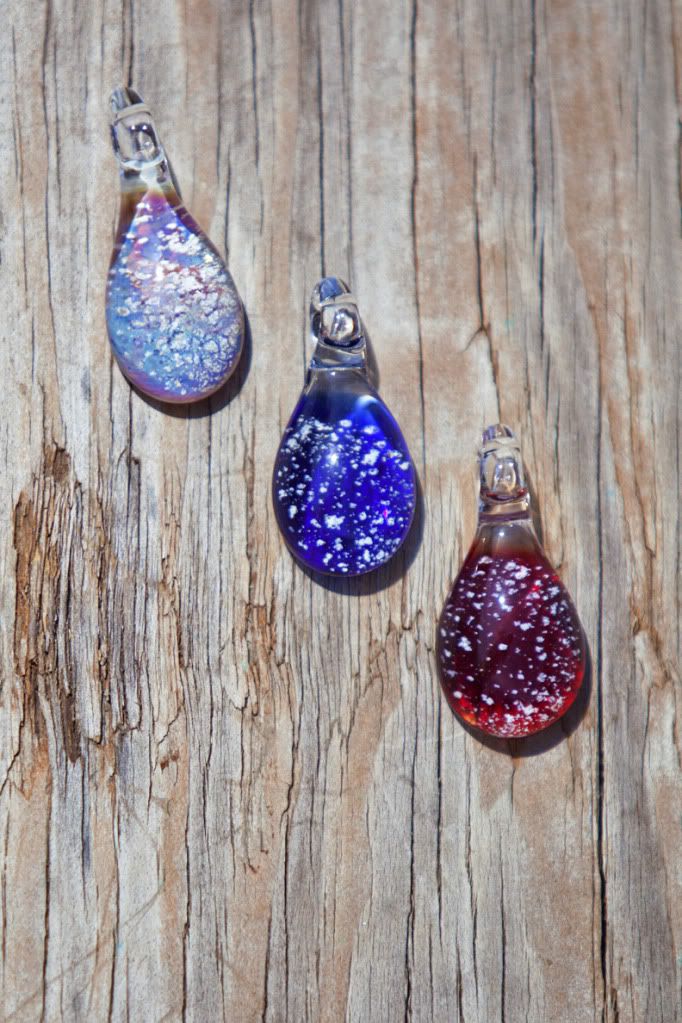 2. Additional memorial pieces for In Loving Memory in Naperville
3. She is commissioned to make 1,000 ornaments for the Joliet Area Hospice
4. 5 Glass vaginas for the Will County Vagina Monologues' fundraising event.
5. Glass vaginas..with teeth. Real teeth.
The above was not a misprint: Sue designed and created 2 glass vaginas with animal teeth.
Seriously..


Are we now on the same page with the idea we are dealing with a true bad-ass?
When asked about her decision to incorporate teeth in her glass vaginas, Sue answered,"My friend, Jeff, collects animal skulls from the desert and stuff like that. I figured there was no way in hell I was going to make glass teeth when I have access to real ones. I think it really turns out well with the natural bone and glass mix."


It makes for one angry vagina, don't you think? That's the point. "These pieces were made for The Will County Vagina Monologues." They needed an angry vagina, and this was the best way to express that."
Sue talks about her glass vags HERE with THE Morgan Hildebrand of Cherry Grrl TV.
I asked Sue if she has had issues with people judging her choices in her private and art life. She replied, "I haven't heard anything..but then again, I surround myself with positive people so I don't make room for that. So far, I've done what I wanted because of the people around me. I've got a great family, a beautiful, strong woman named Shannon by my side. There is absolutely no space for negativity."
That makes for great art. When a person is left to express themselves the way they want, epic things take place. It helps that Sue Regis has great friends in the industry, works with Gay-friendly businesses and a has big following online:
"Facebook has put me in contact with good people. All of my art is there and you get to see what I am about. I have a friend named Alicia Diamond of F/Stop Poetry who is an awesome photographer. She has done great work showcasing the items I sell and myself. I recommend Alicia to anyone looking for professional photography."
I love a name-dropper...That's loyalty
Loyalty means a lot in this industry and Sue has a following because not only is she talented, she is humble and looks for opportunity to give a hand. She has been a part of several fundraising events and enjoys teaching the ways of the torch to beginners.
Sue and I have known each other for nearly two decades and I have always remembered her to be exactly the way she is now: extremely talented, sweet, and humble.  Please support her and check her out on Facebook.com and check out her website as well at http://www.regisglassart.com/
Sue Regis will be walking in the parade at PRIDE in the Chamber of Commerce section with her parents and Tezak's Home To Celebrate Life. Go say, "Hi." While you're at it, leave comments below and follow me on Twitter @TheRealJoyRene.
Yep, You're welcome!
FG
CREDITS: ALICA DIAMOND, PHOTOGRAPHER (ALL PHOTO CREDITS), MORGAN HILDEBRAND, CHERRY GRRL TV (VIDEO INTERVIEW).