Given the words of stanzas usually not sung, can you identify the following traditional Christmas favorites?  [This quiz is indebted to  ChicagoNow blogger Margaret Serious's post "Christmas carols with words worth defending"]
1. Then let us all with one accord// Sing praises to our heavenly Lord.
2. O morning stars, together// Proclaim the holy birth// And praises sung to God the King// And peace to men on earth.
3. For lo, the days are hastening on,// That prophets knew of old,// And with the ever-circling years// Comes round the day foretold.
4. Mild he lays, his glory by,// Born that men no more may die// Born to raise the sons of earth// Born to give the second birth
5. He made me a watchman// Upon a city wall// And if I am a Christian// I am the least of all.
6. Radiant, from  the innocent face,// In this saving hour of thy grace,// Christ, our Lord, at thy birth,// Christ, our Lord, at thy birth.
7. The cattle are lowing, the baby awakes,// But little Lord Jesus, no crying he makes.
8. "Fear not," then said the angel,// "Let nothing you afright,// This day is born a Saviour// Of virtue, power, and might."
9. In his master's steps he trod// Where the snow lay dinted;// Heat was in the very sod// Which the Saint had dinted.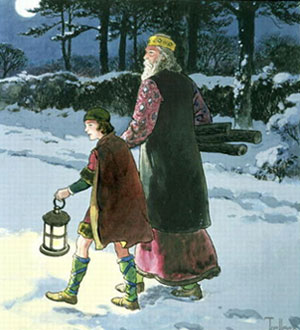 10. Myrrh is mine; its bitter perfume//  Breathes a life of gathering gloom// Sorrowing, sighing , bleeding, dying// Sealed in the stone-cold tomb.
[Answers will appear after Christmas]