Hello fashionistas/ music lovers/ people who just clicked to see Katy Perry's assets!
Last night, many of us watched the Grammys as we do every year, but this year, CBS made a dress code list for guests to abide by:
"Please be sure that buttocks and female breasts are adequately covered. Thong type costumes are problematic. Please avoid exposing bare fleshy under curves of the buttocks and buttock crack."
RULES?! We don't need no stinkin' rules! First of all, this is music! We live for the originality. Fashion is the same way. Don't give in to the man! Second, if someone wants to have a potential Janet moment, let it happen! We definitely got time for that.
Rihanna
Oh Rih Rih. Her look took on a more feminine role than we are used to getting from her in her red gown. She ditched the edge she usually has and left her studded jewelry and low cut cleavage bearing outfits at home. Rihanna went with more of a simplistic elegance, complete with a red lip and classic red nails. I liked seeing this look on her, reminded me of her softer 2006 days when she was just starting out.
Bob Marley Tribute- Rihanna
Could it be this performance was curing my seasonal depression?! Hell ya, I might as well have been dancing on this sand in the Dominican. It was awesome, I watched it 4 times. Then I snapped back to reality and saw a blanket of snow outside. Le sigh. Anyway, Rihanna killed it again for this performance. She kept the sexiness of the red lip and opted for a more song appropriate 2 piece flowy outfit, which moved forgivingly as she sang. The top also provided a little underboob, which I'm sure no one was complaining about. Looks like we found our "One Love," we're looking at you, Rihanna.
J.Lo
Our girl from the block revisited one of our favorite and most memorable of Grammy fashions with yet again, a daring cut. 2000 was all about the cleavage when she made headlines, but she made damn sure we knew 2013 was year of the upper thigh (not to mention $5 Million worth of Norman Silverman diamonds). I always like her and feel like she doesnt age. Don't expect to see this sexy dress at her Kohl's line though.
Adele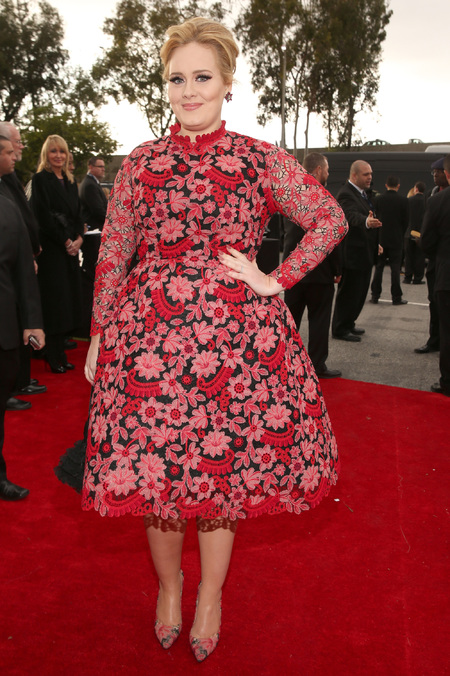 Angel-voiced Adele rocked a floral Valentino print that was inspiring women everywhere to get up and make cupcakes. This 1950s housewife-esque ensemble was a nice change of pace, since we are accustomed to see her in black more often than not.
Katy Perry
I'm not the biggest Katy Perry fan, but I think she looked good. I love the mint green color that her Gucci cleave-tastic dress provided and think it added a little pop of spring in the ending winter months we're embarking on. I think this time of year is pretty common for people to start pushing warmer months ahead with brighter nails, lighter highlights, and opting for more warmer weather patterns. Maybe thats just me. Regardless, Katy and her boobs were loud and proud, and looked good. 
Beyonce
Queen B is fresh off the hot tamale Super Bowl train and can do no wrong. She could have rolled up in scrubs and people would literally be bowing down, throwing glitter behind her as she walks. Her black and white Osman jumpsuit was a nice change from the flowy gowns we are used to seeing.
Taylor Swift
Psycho Girlfriend/Tween Queen Taylor rocked a J. Mendel gown which I think was appropriate for her. Pretty standard, nothing too daring or edgy.
The girls brought the fierceness, but did the guys compare? LL Cool J rocked his white suit, while Bruno Mars kept his look classic, with some twist. Accessories and a hat really pulled his low key look together. Frank Ocean donned a yellow suit paired with what resembled a sweat band for his performance of "Forrest Gump" and Justin Timberlake showed us he's never lost his sexy rocking a "Suit & Tie" and more relaxed hair than we're used to seeing on him. Lookin' good guys!
What were your fashion faves at the 55th Grammy Awards?
LIKE on Facebook!    // @LyndsayMeyer //@Pure_Lyndsanity