-By Warner Todd Huston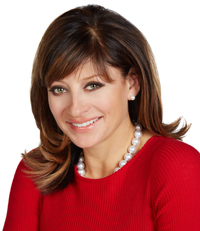 On January 23, I noted that Fox Business Network (FBN) stole top rated anchor Maria Bartiromo away from CNBC and this week her new FBN show debuts.
In my previous post I noted that Bartiromo, FBN's newest hire, had been with CNBC since 1993 and in 1995 became the first business journalist to report from the floor of the New York Stock Exchange.
Bartiromo will bring that great history of excellence and business news savvy to Fox Business on Monday, February 24th at 8AM central/9AM eastern time.
The program will feature the latest news on world market openings and stock moves, as well as the key business headlines of the day. Bartiromo will interview major financial leaders as she breaks down what viewers need to know both before and after the opening bell rings.
So, now you can catch Bartiromo weekdays in this time slot but FBN will also be featuring Bartiromo at other times during the day and perhaps soon a Sunday business wrapup show.
This is a pretty big "get" for Fox, though. For years Bartiromo was one of CNBC's biggest stars and has a long list of awards, plaudits, and points of recognition for her work in the world of business journalism. She also has written several books not to mention her work as a columnist for such news outlets as USA Today. Bartiromo was even an adjunct professor at NYU Stern School of Business from 2010 to 2012.
In just seven short years, Fox Business Network has gone from its debut to pulling in 25 percent of the business audience and has been beating CNBC in the ratings time and again.