It's been said that a touch holds the power to heal, consol and comfort like no other tool we possess in this world, that by simply holding a child or embracing one another in times of need we can supply that unexplained, and seemingly miraculous healing power. One womans touch has been the cause of  inspiration and healing the world over, her journey has been one of trial by fire yet she has emerged a beacon of light and hope to her  followers. Author, Reiki Master, Healing Touch Practitioner and Deeksha Blessing Giver, Lana Bettincourt is thehonorable subject of my Spiritual Highlight:
What led you down the Path to becoming a Spiritual Healer?
:Wow, Spiritual Healer and my path…I became very ill in 1998 and the medical doctors had basically given up on me because they could not find out what was wrong with me.  I was in so much pain and they couldn't explain why and that caused me to become very depressed.  There were so many things going on in my life at that time and my body was being hit with the affects of it all…I was not happy with my job, my marriage wasn't what I expected it to be at that point of the relationship and then the sickness.  It all took its' toll on my mind, body and spirit.  As a treatment for the symptoms I was experiencing, the doctor finally said all we can do at this point is treat you for the pain and the depression and hope for the best.  The pain and depression got so bad that I ended up having to take a Leave Of Absence from work.  While on that Medical Leave, a co-worker approached me and told me about a spiritual practice she was doing and that she was guided to me to help with what was going on.  I told her that I would try it because at that point I had nothing to lose. She came to my home in early January, 1999 and performed healing energy work on me for 3 consecutive days.  At the end of the third day, she told me what was wrong with me and how it could be treated.  At that point I decided that I too wanted to be able to do the same thing and help others, just as she had helped me.  So the journey down that path of education, exploring and experience began.  My commitment with Spirit was and is, that I would always remember the source of all healings is God.  In that knowing and remembrance, I asked that He send to me those in need of a Healing.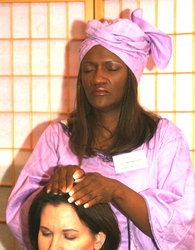 How has your understanding of life and its meaning been effected?
"My understanding of life has been very much influenced by living my life.  I've learned so much by the experiences, connections and insights throughout my life. When you watch the movie, "Angel Wishes – Journey Of A Spiritual Healer", you will clearly understand what I'm talking about.  The movie follows my life from infancy to adulthood and covers all those experiences and connections that gave me insights.  These insights along with the guidance and teachings from my mother, led me to be the honest, loving and caring person I am today.  I know that as each day goes by I'm continuously learning and experiencing and unfortunately, sometimes repeating.
Ive read that there are atleast 6 documented miracles tied to your work?
:Yes, there are 6 documented miracles tied to the spiritual work that I do.  The most profound and notarized one is from a Cancer client. In 2006, a friend contacted me while I was in Portugal and said that her sister had been diagnosed with Cancer and was given 6 months to live.  She asked if I would work on her sister Rosa and I asked Spirit to guide me in the process of working on her.  During the first session with Rosa as Spirit was working through and with me, I saw this thick green slim being expelled from Rosa's body and flow out into the Universe and disappear.  At that point God spoke to me and said that the Cancer was gone. I delivered this message to Rosa and asked her to come back for 2 more sessions so that we could address the Spiritual cause of this Dis-Ease to her body.  I told her that she would need to get a new MRI done because the one she had the day before she came to me was no longer valid.  I brought in 3 additional healers for the next 2 sessions and we successfully identified the source of the energy for her Dis-Ease and we worked with Rosa to release it permanently from her mind and spirit as the body portion had been taken care of the day before.  I received an email 3 days later that Rosa had gotten the additional MRI and had gone back to the doctors for a review.  The doctors were astounded that the tumor was completely gone.  They sent her to Spain to have a biopsy done and the results were zero Cancer cells were left in her body.  Eight years later, Rosa is healthy, happy and living a full life in Portugal.  I'm in the process of producing a documentary that will have all of these Miracles portrayed.  It will be a mini-series webisodes on YouTube.  The first of the series should be out by April, 2014 so please check it out.
I've also read that you have a movie about your life and that youve become involved in the other upcoming  productions?
:Yes, the movie "Angel Wishes – Journey Of A Spiritual Healer" is a docu-drama about my life.  The story begins with a significant event that happened in my life when I was 3 months old and it takes you through to age 49.  You will see how one woman's events, circumstances and even conditions can be experienced but overcome when you keep God first in your life and live a Spiritually guided life.  I also have a few self-help books and meditation CD's out on the market as well.  These materials can be found on Amazon.com and on my website at:  www.lanabettencourt.com.  Check them out and also check out the services and audio/written testimonies on the site.  In addition to my own productions, I recently worked on the film "The Man In 3B", a Tri Destined Studios and Urban Books Media production.  Tri Destined Studios is a spiritually based company and it was a pleasure to work on this production.  The film is based on the book, of the same title, by the New York Times Best Selling Author, Carl Weber.  The film should be out in the theatres in August, 2014.  I'm also working on some Webisodes for the Internet that are based on my spiritual experiences.  My radio show "Healing Hearts" will be back on the air in April, 2014 so tune in for that on blogtalkradio.com/drlanab.
What advice would you give someone who feels they too are being drawn towards this way of life?
:The advice that I give to a person that seems to be too focused on anything is "to just simply allow!"  Being focused is fine but being too focused can cause you to loose true sight of the wonders and experiences that are intended for you in any specific moment in time.  This could then slow down your progression of your path and cause you not to experience an opportunity.  Open your mind and your heart and allow God to be your focus and you simply do the work to achieve what He has laid out for you.
What would you say has been your greatest personal lesson?
:My greatest Life Lesson has been the experience of LIFE itself.  Each day, each moment has been a learning experience and a lesson.  I learn something new each day and am in awe of its' findings and I find myself saying "and I thought I had seen it all".
Thank you Pappadon for this opportunity to share your energy and space.  Peace and blessings to you my dear!
Dr. Lana