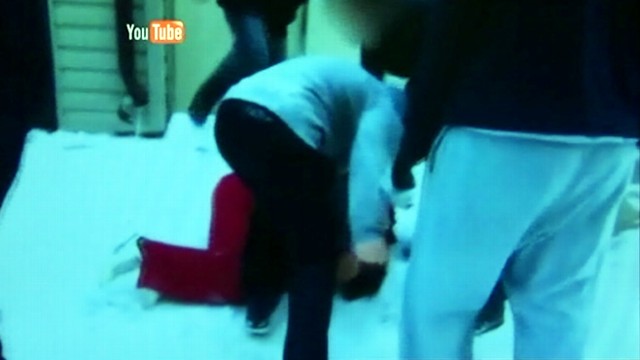 Seven teenagers have been arrested and charged in the videotaped-and YouTube posted robbery and beating of a Chicago high school senior.
The beyond disturbing video, which shows the victim being repeatedly struck in the head, face, and abdomen for over 3 minutes, ultimately and predictably led police to the attackers.
Of the seven, only the oldest, 17 year-old Raymond Palomino, was charged as an adult; the others, two 16-year-old boys, three 15-year-old boys , and a 15-year-old girl (who allegedly lured the victim into the alley where the beating took place) have all been charged as juveniles.
I would like to meet all seven.
I would like to do my best to inflict as much physical and emotional pain on all of them as possible.
Including the girl.
I would like to hear them beg for mercy, to say "Hold on please" just as the victim did, to try and run and get away-
All to no avail.
I would like for them to feel as their victim felt.
And that is the problem, that irrational, cold, violent, vengeful mentality is the problem, the reason this appalling crime took place, the reason such crimes are sadly not terribly uncommon.
Accoring to Palomino's father as well as the Chicago Police, the incident stems from a previous fight last October, involving a 'boyfriend-girlfriend' dispute amongst the teens.
Eight lives, forever changed, because of a oh-so briefly significant "boyfriend-girlfriend' dispute.
This is nothing new, nor is it unique to teenagers.
The trivial directing the consequential.
Unbridled, blinding emotions, trumping thoughtful, illuminating contemplation.
Historically speaking- we, Americans, Humans, be it on a micro or macro scale, have always been self-destructively inept at judging weight, our scales-erroneously powered by arrogance, hate, lust, impulse.
We get hurt, and we hurt back for revenge, we kill as crimes, and we kill as punishment, we cling to shackling resentment, and avoid the liberation of forgiveness.
We attack, and fight each other, be it because of money, or religion, or ideology, or skin color, or sexuality-and much like those 7 teenage attackers, we often gang up on the 'little guy'.
And while in the moment we may feel an inflated sense of pride, of power, of satisfaction,  in the end, what have we got to show for it?
According to Police, on top of 'getting revenge', the attackers robbed the victim of $180 and his wallet.
If they don't already, one day soon the attackers will realize how it wasn't worth it, how crazy and pointless their behavior was.
Hopefully one day we do the same.
Be Good Friends,
@koolking83