I am a hockey fan; always have been. However, being a native of north-east Wisconsin I did not have an in-state NHL team to cheer for. I had to pick one.  I didn't pick the Blackhawks.
My older brother was a Blackhawks fan. In 1996 (I was nine years old) we were watching a game and I asked him who my team should be. He told me "We don't like the Red Wings, you can pick any team you want as long as it's not the Red Wings."
So naturally, I picked the Red Wings.
I was loyal. I stuck with them the whole 1996-97 season and in return they rewarded me with a championship; and then again in 1998.
Evolving as a Wings fan I learned about their history. Naturally, the Blackhawks rivalry was a part of that. However, I grew up away from the rivalry. All I knew of it was what I read. The first 11 seasons since I became a Wings fan the Hawks had only made it to the playoffs twice. So I never saw them as a threat.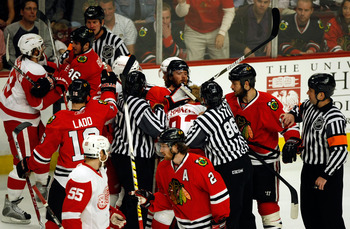 I grew up with no dislike of the Blackhawks. But as a sports fan I knew there was no cheering for a division rival.
Now things have changed. The Red Wings have been moved to the Atlantic Division of the Eastern Conference. The two teams will now only face each other twice a season and will never faceoff in the playoffs unless it's in the Finals.
So my question is this: am I allowed to cheer for the Blackhawks? Although you can never kill a rivalry, it has been greatly diminished. How one team does now has very little impact on the other.
I'm not talking about becoming a Blackhawks fan; I will only be a true fan of one team. But is it okay to pull for the hometown team since they are no longer in my team's conference or division?
I'm comfortable enough with my Wings fanhood to back another team in a different conference, but I won't until I get the blessing from a couple of the Hawks faithful first.
Help me with my further sports dilemmas. Type your email address in the box and click the "create subscription" button. My list is completely spam free, and you can opt out at any time.