I am trying to compose myself and delve into a recap of Sunday night's Emmy Awards telecast.   Let me first get this out of the way -- Julie Bowen needs to eat a cheeseburger!   Oh, and while I'm at it, Kirstie Alley is NOT a size 4, 6 or 8!!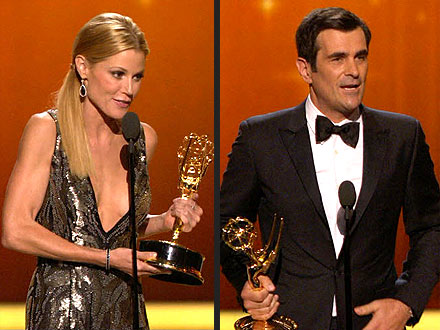 As for the actual awards ceremony, I am a huge Jane Lynch fan.   I am proud that she hails from my hometown of Dolton, Illinois.  Who knew that we'd have a future Emmy host in our middle-class village?  I've been reading her insightful new book, HAPPY ACCIDENTS, in which she shares her memories of family life as "pure Americana."
Jane has certainly paid her dues.  Many locals know her from the Annoyance Theatre production of The Real Live Brady Bunch, working with Conan's sidekick, Andy Richter; she has made Christopher Guest's movies even funnier;  gave The 40-Year-Old Virgin major credibility; she can carry a tune; and in her all too-brief appearance as Julia Child's (Meryl Streep) sister in the film, Julie & Julia, she was a complete joy to watch on screen.
Also, she is a very cool gay person.  In fact, one of the best lines of the night was: "You know, a lot of people are very curious why I'm a lesbian.  Ladies and gentlemen, the cast of 'Entourage.'"
Although a bit frenetic, Jane's taped opening number was worth it -- just to see her reaction when Don Draper (Jon Hamm, Mad Men) asked her to fetch some coffee.
I think Amy Poehler stole the show when she made her very funny beauty pageant strut up to the stage, joined by her fellow Best Comedy Actress nominees.  Then, the terrific Plainfield, Illinois native Melissa McCarthy (Jenny's cousin) accepted the Emmy Award and a tiara from Rob Lowe.  She has been a favorite of mine since her days playing Sookie (NOT Snooki) on The Gilmore Girls.
I only hope that Joel McHale (so refreshing as host of The Soup) and Academy Award-nominated actress Taraji P. Henson  (The Curious Case of Benjamin Button) received a pile of money to sing with the Emmytones.  Huh?  Can anyone even remember the quirky lyrics they sang?  Also, the voice over announcer, who was hired to make witty remarks while the winners were arriving on stage, was clearly talking only to himself.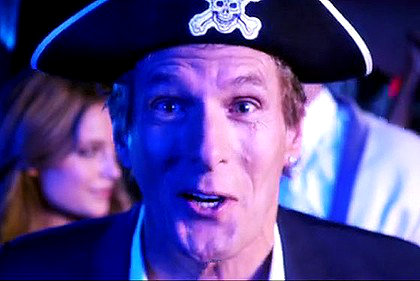 I also knew we were in serious trouble when Michael Bolton started singing in his Captain Jack Sparrow outfit with Andy Samberg (The Lonely Island) from SNL and other performers, including Akon,  The song was lame, and the t-shirts emblazoned with "#1 Sex Champions" made The Jersey Shore look dignified.
Would someone please explain to me what that raunchy hip-hop song was all about?  I mean, even Jon Stewart said he had to explain it to his small children.  So, let me get this straight.  The FOX network, who cut a pre-taped bit of comedy with Alec Baldwin making a joke about the Rupert Murdoch phone hacking scandal, thought that number was acceptable?
During that musical interlude, Martin Scorsese probably wanted to kill himself.
Thank God for Margo Martindale and her Best Supporting Actress win from Justified.  She is a great character actress (Dead Man Walking and Million Dollar Baby), giving inspiration to all those actors and actresses who keep going on auditions -- and even those who dare to dream about it.
Kyle Chandler probably didn't expect to share the biggest moment of his professional life with the cast of the "new" Charlie's Angels.  When Drew Barrymore and the other three actresses announced (more like screeched) the Best Actor in a Drama winner, I could barely decipher whose name they had yelled out.   Kyle (whose credits include the long-forgotten show, Homefront and Early Edition, which was filmed in Chicago) has been so good for so long.  He was superb in Friday Night Lights.
By the way, do we really need another Charlie's Angels?  Please make the pain go away.

Personally, I would have loved to have seen Connie Britton from Friday Night Lights win over Juliana Margulies from The Good Wife.   It is not because Juliana falls short in the acting department.  It is only because she has won before, made out with George Clooney and, after she signed her last ER contract, she really doesn't need the job.
On an unfortunate note, Charlie Sheen's heartfelt good wishes to the over-hyped cast of Two & Half Men, was kinda icky and landed like a thud.   I am already sick of Ashton Kutcher and the half-man.
Was there any good reason why Jimmy Fallon gave Charlie a standing ovation?
Other musings -- Ty Burrell gave a lovely acceptance speech.
Steve Levitan's wife had the best reaction shot of the night, when the writer and co-creator of Modern Family decided to let the world in on their sex life.
The Reality Show segment needed to be shorter.  Way shorter.   The Bachelor hardly qualifies as The Golden Age of Television.
Next year, the producers should have Kevin Dillon (Johnny Drama) present an award with Dame Maggie Smith.   Talk about upping the pledges to PBS.
Oh, and Paula Abdul needs to join the ranks of the unemployed.  Why does she have another job and millions of people don't?
Finally, if last night is any indication, Gwyneth Paltrow's improvisational skills, tested when the "prompter" went out, need some fine tuning.  But, after seeing her bare midriff and lacy see-through getup, who cared?
Other than that, I was mostly entertained and very happy that so many performers from Chicago were front and center at the Nokia Theatre.
Speaking of the Nokia Theatre, who decided to make the steps going up to the stage so death-defyingly steep?   If Betty White had won, there could have been a must-see episode of Wipeout!