I know I'm really late.  But, I finally found a good reason for Emily Dickinson to leave the house.  The new Poetry Foundation building www.poetryfoundation.org has opened, and it is a beauty.   Sleek and splendid it its simplicity and class, this may be my respite from flash mobs and panhandlers.
I attended the Open House on June 26, and from the moment I arrived at the corner of Dearborn & Superior, I was in awe of architect John Ronan's serene design and peaceful setting.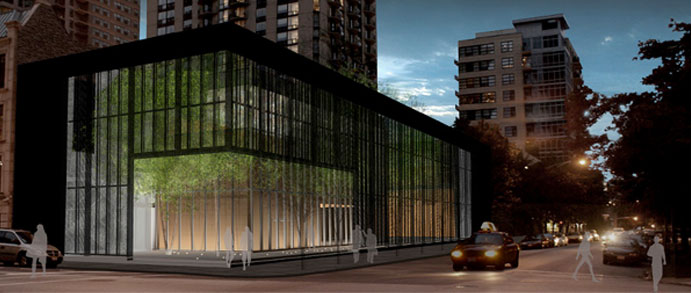 A welcoming staff was positioned at the front courtyard, surrounding by trees and a remote sound system which allowed visitors to hear the various speakers inside, who were a part of the opening weekend festivities.
Once I had entered the space, it became clear that Ronan's vision is a major success -- a bright and vivid light in the River North neighborhood.   There is an orderly flow to the seating, stairways and reading area -- yet it does not skimp on artistic flair -- with all the elements in their proper place.
I was inspired to start writing and organizing my closets all in one day.
Poetry magazine founder Harriet Monroe had the vision, and Ruth Lilly had the dough -- a great combo in "discovering and celebrating the best poetry and putting it before the largest possible audience."  Mission accomplished.
"....and miles to go before I sleep....and miles to go...."