From what I've seen and heard the past few years, TV news in Chicago is a dog-eat-dog industry. People complain about not being able to get jobs as reporters and producers. But they just don't know about all of the backroom backstabbing and water cooler whispering that can lead to surprise pink slips. Most anchors think of a pink sheet of paper as something a script is printed on and not a termination notice. Well, you are only as good as your last performance. Yet, even the best performers could sometimes be on the chopping block.
I reached out to a couple of former TV reporters to see what life is like for them after TV. No, they didn't give away any secrets or bad mouth their former employers. Instead, they gave me a unique perspective of looking at life differently once the teleprompters have been turned off.
Rich Samuels, WTTW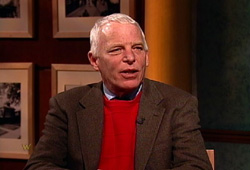 In December 2009, Rich Samuels left Chicago Tonight as a result of budget cuts. He was doing a great job. But I guess the station was going in a different direction. (That direction was making sure the CEO had more money in his pocket.) I guess Mr. Schmidt grew up on the South Side where we believe that "it's better in my pocket than yours."
Mr. Samuels spent 18 years at WTTW-TV and 17 years at WMAQ-TV (Channel 5) and had some good stories left in him. Thankfully, he gave some clarity to the situation via his e-mail statement:
My retirement has given me the opportunity to pick up where I left off at the time I graduated from college---and to pursue some volunteer activities that I believe are the obligation of someone who has been as fortunate as I've been.
Throughout my high school and undergraduate years I was heavily into music as a performer (clarinet and saxophone) and as an arranger. I've now become a classical music disc jockey on WORT-FM, a non-commercial station in Madison WI that is staffed by volunteers and is heard throughout south-central Wisconsin. (My wife and I divide our time between Chicago and a house we purchased four years ago in rural Green County, WI in anticipation of our retirements).
I do a 5-8 am show on Thursdays which can be heard within a fifty mile radius of Madison at 89.9 on the FM band (it's also streamed at http://wort-fm.org). I'm particularly interested in hooking younger listeners on good music of all genres. To that end I've featured recordings of the Wisconsin Youth Symphony Orchestra and the Chicago Youth Symphony Orchestra, both of which are amazing groups. I also try to feature the works of Midwestern composers and ensembles, including the amazing Wind Symphony at Illinois State University and the musicians associated with the Center for Black Music Research at Columbia College in Chicago.
Broadcast journalism is, of course, something that I will always miss (as it turns out, the political story slowly unfolding here in Wisconsin is every bit as fascinating as anything I encountered in almost forty years on the streets of Chicago).
But my present excursion into the world of radio is, for the moment, keeping me out of trouble.
Ed Curran, WBBM-TV (Channel 2)

Before Channel 2 became a place where having a YouTube account was a major requirement for traffic reporter, there was a guy named Ed Curran doing the news. And he did it quite well. He did it so well that folks flocked to message boards to complain when he left.
He's now on FM News 101.1 and doing a nice job so far.
Based on his statements, he sees the bright side of things:
Half my career has been on radio and half on TV.  It's been fun to fill-in doing radio over the past year or so and a real honor to be part of FM News 101.1 as it takes its first steps. It's a rare and exciting opportunity to be part of a station that's being created from the ground up.  I'm working with a lot of very talented and enthusiastic people.
I'm a native Chicagoan and I'm pleased to have always been a broadcaster right here at home.  Communications today is more than just radio and TV. As you know, it's also important to be active in social media, blogs, Twitter, and whatever is next.  So, along with radio and TV, I've been creating content on the Internet for almost 20 years.
I've been fortunate to have moved between radio and TV and combine the two during my career.  Although the two are different, I don't see a lot of difference in the satisfaction I get working in either medium.
The biggest difference in radio?  No makeup…and I get to wear jeans!
-----
My thanks to Mr. Samuels and Mr. Curran for their quick replies. I hope that you all enjoyed.
I'm thinking about making this a regular segment.