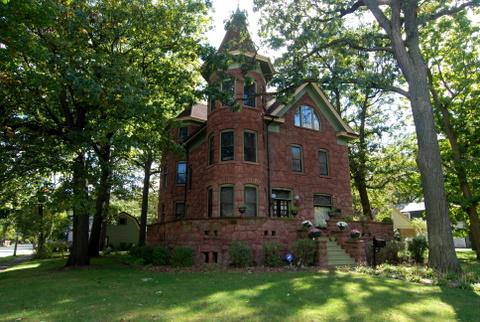 If the mature trees on the 100 x 200 foot lot at 147 Thatcher Ave in River Forest don't satisfy your taste for greenery, there's a forest preserve with a river running through it directly across the street. A two-block walk along the forest preserve takes you to the River Forest Metra station.
147 Thatcher Ave
The home is a striking Queen Anne brownstone with a soaring 3-story turret capped by a peaked roof. If you're looking for a home with character, this one has an abundance of it.
Many of the vintage details of the 1890s-vintage home have been preserved and restored, including wood paneling, window trim and crown moldings. The home does have a new kitchen and master suite.
The seemingly modest $699,000 asking price for this 5-bedroom 3 ½ bath, 3-car garage home is countervailed by a River Forest tax bill just shy of $20K.
The home has been on and off the market for 3 years.