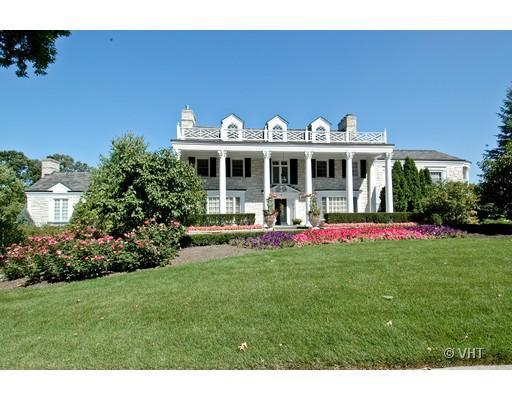 One of the shocks for East Coasters relocating to Chicagoland is its generally flat topography. No familiar rock outcroppings; no streets winding up and down rolling terrain.
Hinsdale has hills. They're not hills that will completely satisfy an East Coast transferee, but they're about as good as it gets in the Chicago area.
Gazing up the hill toward 323 Hillcrest Ave in Hinsdale a Virginian might see faint traces of the east façade of Washington's Mount Vernon in the two-story columns, the three dormers and the two chimneys that bookend the home's broad portico.
The 12,000+ square foot home, built in 1956 and recently renovated, has 6 bedrooms, 8 full and 3 half baths, 9 fireplaces, a 5-car heated garage, and an in-ground pool on its acre-plus site.
Koenig & Strey's Daniel DeBoo has the listing, for $6,500,000.