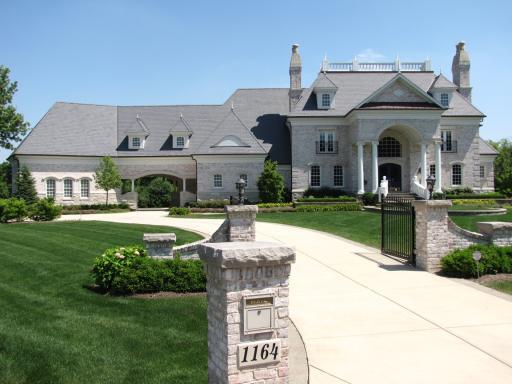 There are currently three homes that are 12,000 square feet or larger listed for sale in Naperville.
The largest and priciest of the homes is on 2 ½ acres at 1164 Shamrock Ct. It has 12,200 square feet of living space on the main levels and an additional 4,000 square feet of finished space on the walk-out lower level. The newly-listed home is priced at $4,375,000 and boasts 22 rooms, 7 bedrooms, 8 ½ baths and a 5-car garage.
Jack Persin of Ryan Hill Realty has the listing.
If 5 bedrooms and 12,000 square feet are adequate for you, there's a newly-built home on 3 ½ acres listed for $3,990,000 at 8S330 College Road. Unusual features include 8 fireplaces and a separate coach house.
The final listing, at an undisclosed address in the Tamarack Fairways subdivision, checks in at an even 12,000 square feet. The 23-room home has 5 bedrooms, 7 ½ baths and a 4-car garage. Unlike the other homes, it's on less than an acre. The list price is $2,799,000.