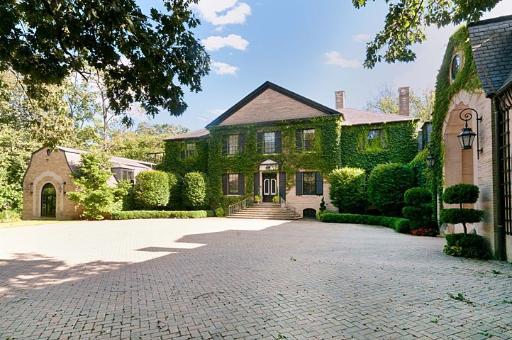 It's impossible to be certain without having been inside it, but the recently-listed 6-bedroom, 8 ½ bath home at 1427 Waverly Rd in Highland Park holds out the promise of being bargain-priced at $2,695,000.
The 10,200 square foot ivy-clad home is entered through a large brick-paved courtyard. A porte-cochere leads to a 3-car garage and coach house on a tree-shrouded 2.2 acre lot overlooking adjacent Millard Park.
The 14-acre park is a natural area with ravine, bluff and shore habitat. There's beach access, a picnic area and fishing in the park. You'll see white-tailed deer in Millard Park – as you will in almost every yard in Highland Park.
The home's interior is elaborately detailed from floor to ceiling and boasts 5 fireplaces, ranks of Palladian windows and a pool.