Positional Overview:
Alexei Ramirez is entering his 8th straight season as the starting shortstop for the Sox, and over that timeframe he has amassed the 8th highest WAR total (19.1 fWAR), the most plate appearances and the 3rd highest UZR amongst MLB shortstops, making Alexei a consistent and reliable contributor to the team. He's joined at 2B by rookie Micah Johnson, who is a definite wildcard this season given his exciting tools and lack of experience. I really liked the Emilio Bonifacio signing as he brings excellent versatility and some much needed speed to the team, but the Sox don't seem to have any interest in letting him play as he only got 18 PA's during the first month of the season. Carlos Sanchez is ready to fill in should anyone get hurt or not perform, making for good depth in the middle infield. In the minors, the MI spots are quite deep, with at least one impact prospect (Tim Anderson) and several others who could develop into useful pieces.
Is Micah Johnson ready, and how good can he be?
I was surprised that Micah Johnson won the starting 2B gig out of Spring Training. He had limited experience in the upper minors, with just 472 PA's split between Birmingham and Charlotte, all of which was accrued during the 2014 season, and his performance with Charlotte was mediocre at best (.275/.314/.370, 87 wRC+). Additionally, his performances over the past two seasons have been quite erratic, with a wide variance between first and second half production. Typically, Micah has made fast starts, putting up big first half numbers, before being promoted and seeing his production tail off. I thought he could have done with at least half a season more in Charlotte to work on his consistency. Micah's pre-season Steamer projection was for a .262/.310/.363, 87 wRC+ line, which I thought was a little optimistic as that was essentially the same line that he put up in Triple-A last year. Micah's currently hitting .246/.317/.263, 66 wRC+, which is not great, but fortunately the offensive bar at 2B is very low, and he has looked the part at times with some solid PA's. I'm sure he will start to hit for more power soon, as his .018 ISO is unreasonably low, but his strike zone control is close to what I would have expected. I think there is still a lot of risk with Micah, but long-term he has the skillset to hit for a decent average, drawing plenty of walks, chipping in with occasional pop (maybe 10-12 HR's at peak) and being an elite base stealer. This would make him the prototypical leadoff hitter.
Top Prospect:
Tim Anderson, SS- Anderson had a highly successful 2014 season, hitting .301/.327/.481 while spending most of his time with Winston-Salem (High-A). He showed impressive development in his power output, boosting his ISO from .086 in 2013 to .180 last year, and reducing his strikeout rate from a 25.9 K% to 22.7 K%. On the negative front, Anderson was walk averse in 2014, drawing just 7 free passes in 345 PA's for a BB% of 2.3%, and to start this season he has just one walk in 102 PA's (1.0 BB%). His defense at short is also currently below average, though scouting reports suggest that he has the tools to be average or better at if given the time to develop. Anderson has the potential to become an All-Star level SS and true impact player at the Major League level, but he is still quite raw and has a high risk profile with a very low floor.
Best of the Rest:
Eddy Alvarez, 2B/SS- Alvarez has a great back-story (read more on that here) and is clearly an incredibly gifted athlete. For someone who spent years away from baseball, it is surprising to see that he has good strike zone control (12.7 BB%, 17.6 K%), albeit in a limited sample size. At 25, he's old for the lower minors, but given his lack of baseball experience his "baseball age" is much lower than that, and he should still have room to grow and develop as a prospect, giving him some upside.
Joey DeMichele, 2B- A third round pick in 2012, DeMichele has been disappointing offensively over the last two seasons. He spent the majority of 2014 repeating High-A, but didn't show any progress with the bat, posting an almost identical line (.264/.324/.381, 99 wRC+) to the prior season (.246/.323/.366, 94 wRC+). He was awful in a late season cameo at Double-A, hitting .154/.214/.231, 19 wRC+. I think he looks like organizational filler at this point, as his tools were always fringy, though some may still see him as a potential utility guy.
Jake Jarvis, 2B- There's not a lot of publicly available information on Jarvis, but he was one of the few high school players drafted by the Sox in the 2014 draft, and that makes him somewhat interesting. He pitched and hit during HS, so he has a strong arm, and is also a good athlete. He made his pro debut last year in the Arizona League, hitting .221/.333/.263. We'll know a lot more about him by the end of this season.
Jake Peter, 2B- Peter was drafted in the 7th round last year, and all the scouting reports indicated that was utility infield type prospect, so it was a nice surprise when he came out and hit a monstrous .388/.444/.579 with Great Falls. The numbers tailed off after an aggressive promotion to Winston-Salem (leapfrogging Kannapolis), where he hit just .236/.277/.303. He made excellent contact across the two levels though, and finished with a 9.8 K%. If he can continue to make a lot of contact then he could have a future as a high average hitter with some pop. Peter has a quick bat, a very strong arm, (he's been up to 96 mph from the mound) and is a good athlete.
Cleuluis Rondon, SS- Rondon continues to draw rave reviews for his defensive ability, but it's at the plate that he needs the most work. He's never going to be a power hitter, so in order to maximize his potential at the plate he should focus on drawing walks and making consistent contact. It is encouraging to see that he has improved in both of those aspects over each of the past two seasons.
Furthermore, he showed almost zero power during the first half of last season at Kannapolis with a .027 ISO, but improved to a more respectable .107 ISO after a mid-season promotion to Winston-Salem. In fact, his numbers were much better across the board after he was pushed to Winston-Salem, and his plate discipline, in particular, was very good (8.6 BB%, 14.9 K%). The sample size there was quite small (222 PA), but if he could show that level of ability over the course of a full season then it would stand him in god stead for the future. Rondon also possesses good speed and is capable of swiping a few bases. Despite a few positive signs it is still unlikely that Rondon will become an average MLB hitter, but his glove alone could still allow him to be a positive contributor at the Major League level, especially in this current era or declining offense.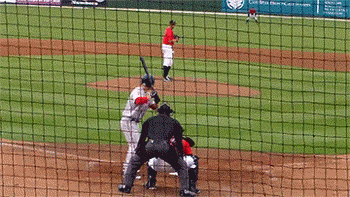 Tyler Saladino, SS- Saladino is an interesting prospect whose status has been up and down a lot over the past few years. He was one of the top names in the system entering the 2012 season, but found the transition to Double-A pitching to be very difficult, and his hitting fell apart. He rebounded in fine fashion last year with Charlotte, batting .310/.367/.483 and finding his power stroke again with a .173 ISO (dramatically up from the .080 and .085 ISO's he posted in '12 and '13 respectively). I'm not sure if there's enough in Tyler's bat for him to be an everyday starter, but given his positional flexibility, he could be a super utility guy that's capable of playing any position on the field aside from catcher (he played SS, 3B, 2B, 1B and LF last year alone). Flexibility is a highly valuable skill, and this can help to make Tyler a great asset, especially given how few bench bats teams tend to carry these days. For his career, Tyler has hit equally well against lefties and righties, though he killed left handed pitching last year, posting a triple slash line of .330/.396/.543. This could make him a good platoon option with Conor Gillaspie at 3rd. Saladino is pretty much big league ready, and is likely to be one of the first bats called upon if there are any injuries in Chicago.
Carlos Sanchez, 2B/SS- Sanchez had a nice bounce back campaign last year after a disappointing 2013 season. He batted .293 in 2014 with a career best 7 home runs (he hit only 2 home runs in his previous 1,393 PA's). Despite this I think his upside is fairly limited, especially offensively, and I see him as a backup infielder type, though he could start at 2nd if the defense plays as a plus.
One for the future:
Amado Nunez, SS- Nunez signed for $900K last July as an international free agent and he offers a strong, well-rounded skillset, with projectable gap power, a smooth swing and above average speed. He currently plays SS, but there has been talk that he may need to move over to 3B in the future. Still just 17, Nunez will likely see action in the Dominican Summer League later this year.
Want to know right away when we publish a new article? Type your email address in the box and click the "create subscription" button. Our list is completely spam free, and you can opt out at any time.