Last year I was in Israel for Chanukah. There were sufganiyot (filled donuts) everywhere. Literally.
Fancy Shmancy ones. Humble jelly ones. However, only one place carried gluten free ones. Coney Island Bakery on Yaffo.
By the time Chanukah was over me and Coney Island had developed a very serious Gluten Free Donut relationship.
This year I'm back in the Chood – the West Rogers Park Neighborhood of Chicago. There are no gluten free bakeries here that sell gluten free sufganiyot. Seriously sad day.
No Kosher Gluten Free Jelly donuts for Chanukah??
Says who??
Not me. I pulled out my brand spankin' new Swiss Diamond Cast Iron stock pot, then heated around 4 cups of peanut oil (love it for frying) and got to work.
The recipe I came up with is a variation on one of my gluten free pizza recipes. It's light enough that when I modified it, it was donut worthy. In the end the sufganiyot were super crispy on the outside and fluffy & jellyish on the inside.
I ate too many of them.
I mean I simply had to do quality control on this new recipe…. right?
Here's the recipe:
GlutGluten Free Sufganiyot (Jelly Donuts) - Makes 12
For the Yeast Mixture:
1 cup warm apple juice
2 1/4 teaspoons yeast
1 teaspoon sugar
For the flour mixture:
3 cups gluten free one to one flour (with xanthan gum)
2 tablespoons baking powder
2 tablespoons sugar
1/4 teaspoon salt
Additional liquid:
1/4 cup warm water
3 tablespoons extra virgin olive oil
Oil for frying (I like peanut oil)
For the filling:
1 cup strawberry or raspberry preserves
1/2 cup powdered sugar, for dusting
Cover a baking sheet with parchment paper, plastic or a silicone mat. Set aside.
Place several paper towels in a baking pan. Set aside.
Whisk together the apple juice, teaspoon of sugar, and yeast. Allow the yeast to proof (bubble/foam) for 5 minutes.
In a medium bowl, combine the gluten free flour, baking powder, salt, and 2 tablespoons sugar.
Add in the proofed yeast, the warm water and the olive oil. Gently knead until combined.
Roll the dough into a 12 inch log. Cut the log into 12 pieces. Carefully roll a piece into a ball then slightly flatten. Place on the prepared baking sheet. Repeat with the remaining dough pieces.
Cover the dough pieces with plastic wrap (do not allow for any air holes), and allow the dough to rise for 30 minutes.
While the dough is rising, place at least 4 cups of peanut (or canola/avocado) oil in a dutch oven. Heat the oil to approximately 350 degrees F.
Drop several pieces of risen dough into the oil. Fry on both sides, until golden brown.
Remove the donuts from the oil and allow them to cool on the prepared paper towels. Repeat with the remaining dough.
To finish:
Take a long, thin, sharp knife and make a hole/slit into the center of each donut.
Using a "bismark pastry tip" set in a pastry bag (or a large zipper bag with a tip cut off), place the preserves in the pastry bag with the tip. Squeeze some of the preserves into each donut.
Dust each donut with powdered sugar. Serve fresh donuts to your hungry GFE (Gluten Free Eater) friends and family!
You can fill the donuts with any type of filling you like...be creative!
I'm still having an internal debate as to whether to cut them and shape them and then let them rise, or let the dough rise then shape them. I'm leaning towards the former. I think they'll be fluffier inside, but you'd have to cover them really well with plastic while they rise so they don't dry out. Please make sure to let me know which method you tried and how they turned out.
I want to see pictures!!!
You can find more Chanukah Recipes at https://bit.ly/2AnWk3j:
You can find Chanukah (and other) videos on my YouTube Channel: Sharon Matten's YouTube Channel
Please make sure to "like" the videos and subscribe to my channel!
I'd love to hear from you! What are YOUR favorite Chanukah foods? YOUR favorite latke?
I WANT TO KNOW!!!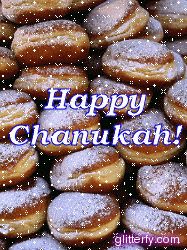 Filed under: Chanukah, Dessert
Tags: Chanukah, donuts, Gluten free, gluten free sufganiyot, Hanukah, jelly donuts, Jewish Food, Jewish Holiday, Jewish Tradition, Swiss Diamond