When I started running in 2007 I joined a Beginning Women's Running Group and trained for my first 5K.  This group was an off-shoot of the larger running group in my community, Second Wind Club.
I never went to a group run with Second Wind, though.  I always felt scared and a little intimidated.  What if they all already knew each other?  What if I was the slowest person there?
When I moved to Chicagoland in July 2008 I started training for my first half marathon by myself and didn't decide to check out my new local running club, the Oak Park Runners until the fall of 2009.
I also started my first running blog in January 2009.  But I was mostly blogging for my friends and family back home.  It wasn't until mid-2009 that I met my first running friend through my blog.  Kim and I realized we could run together at lunch and a friendship was born.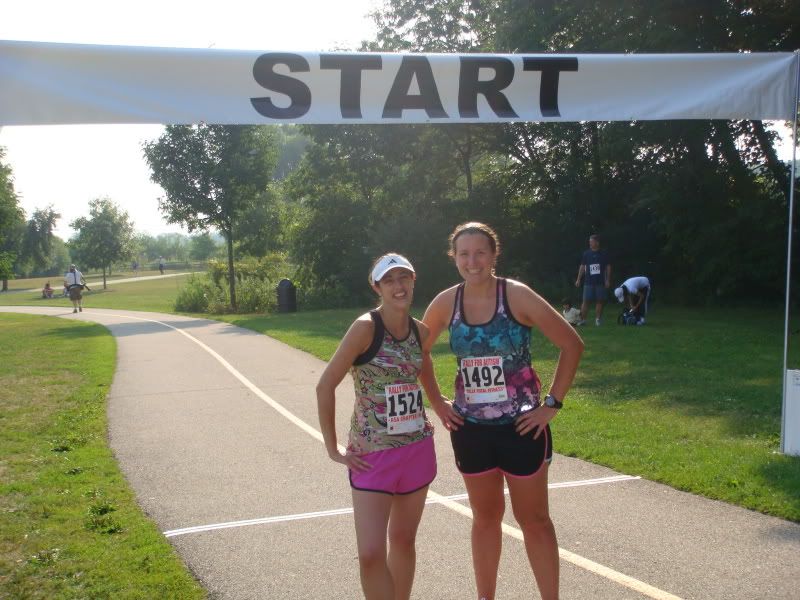 Through Kim I started meeting other running bloggers.  I started reading and commenting on more blogs. I got more involved in groups on Facebook, including the Chicago Running Bloggers group and one for Chicago healthy living bloggers.  Suddenly I found myself going to book clubs and running events and races and knowing more faces than I thought possible.
Not only did I know all the people from the Oak Park Runners Club but now I had a whole group of Chicago Running Blogger friends!
Which recently led to an awesome Chicago Running Bloggers holiday-themed meet-up at my apartment on Saturday.  Seventeen of us ran 3 miles and then even more of us partied with amazing homemade chili, bread, salad and desserts for the rest of the afternoon.
From L to R, starting in the back:
Back Row: Anne, Katie, Emily, Cary, Lauren, Maggie, Bobbi, Charlyn
Second Row: Amanda, Katie, Kelly, Amy, Marcia, Kim

Front Row: Riyanti, Emily, Lindsay, Sara, Erica, Me
Because if there's one thing Chicago Running Bloggers do better than running it's eating!
Many of these gals have accompanied me to various fitness classes when I couldn't run.  They have encouraged me at races or introduced me to new ones to run.  They've gotten me out of bed to run in the morning when I knew I wouldn't do it on my own.  They've been smiling faces on the sidelines or in the crowd at an event.  And they've become friends outside of running as well.
Some people love running or working out because it's their time to clear their head.  It's their alone time.  But for some people, like me, having a group to rely on is a great way to stay motivated.
So, if you're looking for a running or a gym buddy, if you want someone to keep you accountable, and if you want some ready-made friends, check out a Chicago Running Blogger.  And if you're a Chicago blogger who runs (no matter how short or long, no matter how fast or slow) why don't you join us?