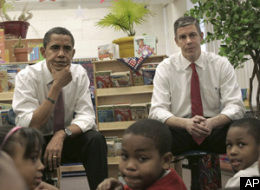 CPS Teacher Killed in Morning Crash
MSNBC -
A woman killed Thursday morning when her car struck a tree on Lake Shore Drive near 47th Street was identified as a Chicago Public Schools teacher, ...
6 yo accused abusing girl classmate
Southtown Star, IL -
The alleged abuse happened at Paul Revere Elementary, 1010 E. 72nd St., Chicago Public Schools spokeswoman Anitra Schulte said. "This is an abuse allegation ...
Dunbar shooting victims expected to recover
Chicago Tribune, United States -
... game was going on at Dunbar, 3000 S. King Drive. The victims did not attend Dunbar, but four were enrolled at other Chicago public schools, Bond said.
Schools take aim at paddling culture
Chicago Tribune, United States -
By Carlos Sadovi | Tribune
reporter Akeem Nathaniel still remembers what would happen to Marshall
High School basketball players who misbehaved in class, ...
From jazz to rock, CPS music playlist makes the grade
Chi-Town Daily News, IL -
Music remains a big part of the curriculum at Chicago public schools. Students from 50 high schools perform in a solo and ensemble concerts every spring ...