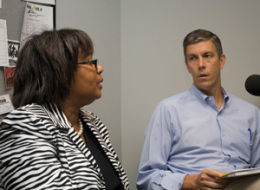 Present at the announcement Catalyst
Chief Education Officer Barbara Eason Watkins was the only ranking CPS
employee there.
More Wacky Duncan Coverage TWIE
Over at EdWeek,
they're calling Duncan a supporter of NCLB when in reality Duncan has been one of the most vocal critics
of the legislation and Chicago has been one of the slowest and most
reluctant implementers of the law.
Duncan's track record Catalyst
In his seven years as
CEO of Chicago Public Schools, Arne Duncan has taken on a host of urban
education policy challenges to varying degrees of success.
The Duncan Nomination The Takeaway (NPR)
Veronica
Anderson, editor-in-chief of Catalyst Chicago, a magazine that reports
on school reform, gives The Takeaway a full briefing on the new
educator-in-chief.