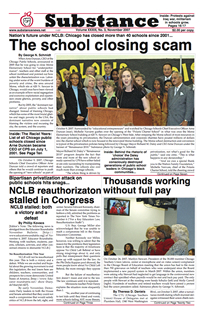 Strange not to hear about this from George directly, but apparently Substance is being mistreated by the AFT when it comes to getting press credentials for the upcoming conference (AFT Tries to Exclude Substance)
"Substance has covered education in Chicago - ask Mayor Daley and CTU
chief Marilyn Stewart. Even the White House issued press credentials to
Substance when George Bush came to Chicago. How sad that the AFT is more restrictive than George Bush."
This seems tired and unwise on the AFT's part, given that so many organizations have already crossed the line when it comes to online news organizations and bloggers.
Click the link to Ed Notes Online in order to read the full post and some of George's supporting arguments.