When last I wrote, I wondered blogwise if I should get a dog.  Having always had a dog until recently now seems like a good time to rekindle a love affair long on hold.  In the post I shared a conversation that I had with family about whether or not it was a good idea to put a dog outside on a chain.  For the most part the comments that I got were definitely not pro-chain.
You can read them here.  http://www.chicagonow.com/daddy-diaper-danger/2014/03/to-dog-or-not-to-dog/
I want to thank all of the commenters for saving me from a huge embarassment.  Their thoughts and ideas on the subject of dogs and dog care and dog enthusiasm has made me see the light at the end of the dog dish.  The world is awash with ways to pamper and spoil my life-partner dog and I plan to buy as many as possible.
First I'm going to the shelter and letting whichever adorable doggie wants to come to my home and become my housemate, choose me.  I no longer believe that it is right for a human to pick an animal and call it a pet.  It will be known as a live-in canine and be afforded all rights that any person would have in my house, including defecating indoors if it so desires.
Once we get home there will be these gorgeous accommodations indoors.
This Precious Palaces Marie Antionette pet bed is available for a steal at, $4723.00.  It's on sale!!  Can you believe the luck?  I hope I don't get arrested.  You can get one at beyondthecrate.com/.  But don't wait, with these prices they won't last.
For outdoors, if my my little kiss-kiss chooses to go out that is, I will have this stunner waiting....
Amazing right?  It's at the same site too!   I couldn't believe that this is only $30,000.  At first blush it seems like a bit much but what price can you put on your live-in canine's happiness and well being?  There is none.  All that I would have to do is sell my carbon belching eco-disaster of a car.  Bicycle here I come!
So, for each room in the house I am going to get my num-nums a unisex bed.  I don't want him/her to feel like I'm putting any gender roles, norms or stereotypes on.  However my new bestie wants to behave, that's fine.  This one I just fell in loooooove with.
Beyond the Crate is always eco-friendly and green as green can be.  Of their hand painted beds they say.
Beyond The Crate is always focused on going green when presented with the opportunity. The wood that is used for these JakeyBB dog beds and the dog toy boxes is reclaimed hardwood. The fabrics are also recycled. The company ensures that some of the designer fabrics and other beautiful fabrics that get discarded at times are put to use in a judicious and responsible manner.
And at $499.00?  How are they making any money?  Their margins have to be razor thin.
So, of course before I even show Miss Whisker Diva any of these meager accoms, there will be a huge "Welcome to your new digs, dog" basket of treats at the front door from my new addictions at Pampered Paw Gifts!  Oh my Gawd what they can do with a basket!!  Toats magoats, they are amaze balls!  Just look at this;
Could you die??  Oh, oh, oh and they even have gifts for humans and they do doggie weddings, which we will totally have, and they have designer tags and collars, and adorable totes.  They thought of everything.
I will probably get a stroller too. I just know that there are going to be some days that it will be too chilly or warm for my buddy's tiny little paws to be on the pavement or grass, and what am I supposed to do then?  Not take him to Starbucks then PetCo?  Puh-leez.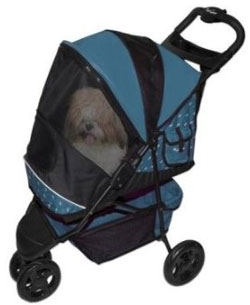 Only $124.00.  It's a pittance for my little fuzzy butt.
Well, all of this is just so very exciting.  Once my doggie-bestie picks me out I will totally be sending out invitations for his/her welcome home party, that will be catered of course and let him decide which room she wants.
Oh man, I can't wait to prove to the world how wrong I was about my ideas and attitudes towards live-in canines.  I'm so embarassed at my behavior before, I was such a cave man.