Kyle Schwarber tweeted this just a few minutes ago,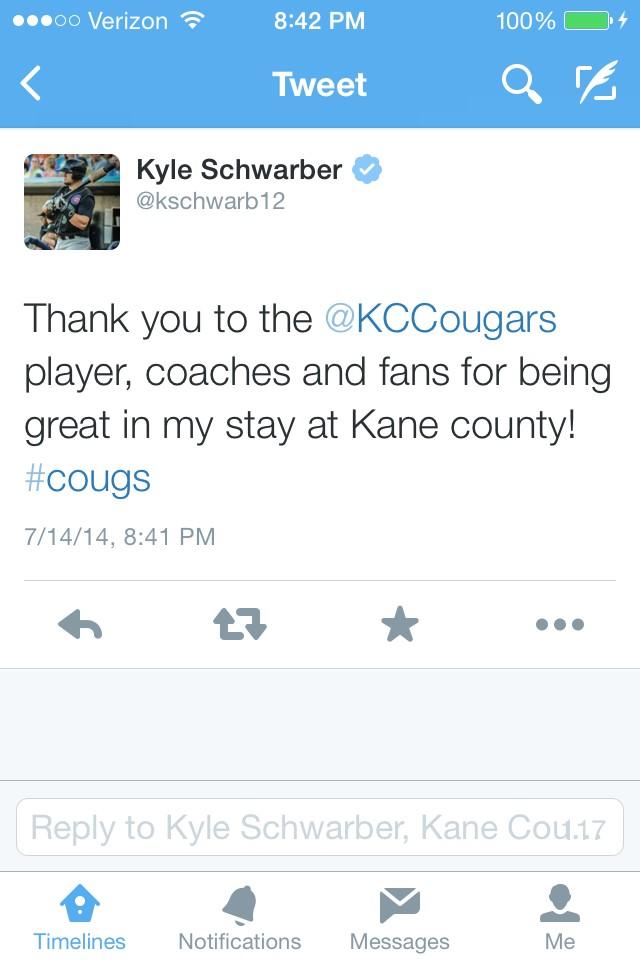 Take it for what you will, but it appears that Kyle Schwarber is headed to Daytona.  Our writer Mauricio wrote this on him for Baseball Prospectus earlier,
I've seen the Cubs' first round draft pick a few times at Low-A. At the plate he sets up in a low crouch with an open stance, his hands even with his shoulders and extended out away from his body. He has a simple load and takes a quick, efficient route to the ball and displays good swing plane for power. I didn't see power in game but he barreled up a few pitches for hard line drives. His nose is always on the ball as he displays an advanced feel for tracking stuff. He spat on a few good changeups that lesser hitters would've swung over and he shows a solid understanding of the strike zone. Behind the plate, Schwarber sets up low in his crouch and stays quiet, creating a comfortable target for the pitcher. His framing skills could use some work, as he stabs at offerings. He has surprising mobility back there with good lateral movement on block attempts. I've noticed that he gets loose fundamentally late in games. He has an average arm and I did get a pop time in the 1.9 range but ultimately the catching skills are fringe and can improve. I don't think the cost is worth delaying the bat. He's a bat-first left fielder in my mind.
I have seen him a few times myself and I agree with much of what Mauricio says here and would only that he is extremely capable of hitting with power to the opposite field, much like his 1st round predecessor Kris Bryant.
UPDATE: Sahadev Sharma of ESPN Chicago confirms that Kyle Schwarber is indeed headed to Daytona.
UPDATE 2: Guesses here are that Bijan Rademacher moves to Tennessee (he was removed from the game) and Mark Zagunis heads to Kane County.
Good luck, Kyle!