Yesterday, I talked about Dan Vogelbach's "compact, uncomplicated swing".  I found this GIF made by Mike Rosenbaum of Bleacher Report that demonstrates what I mean.
As you watch the swing, notice
The quick, simple load.
The balanced weight transfer and the great hip rotation. He uses the lower half of his body very well.
How he keeps his head down until the point of contact and ..
...the way he stays short to the ball
How he  quickly whips his hands through the zone.
It's an explosive swing. There is no question this kid has the ability to hit for power and average.  Can't wait to see him at Kane County this year!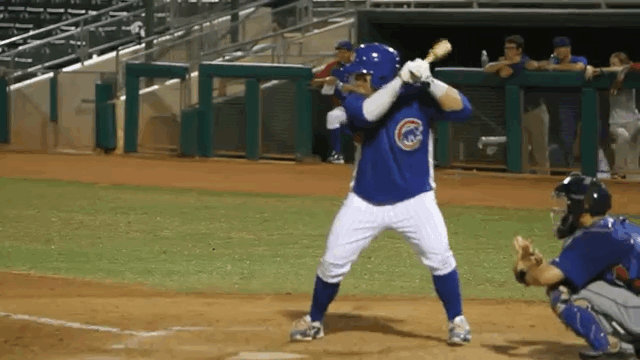 After posting this, I got some great feedback from Harry Pavlidis on Twitter. If you don't know Harry, he is the founder of Pitch Info LLC, writer for Hardball Times, and a Baseball Prospectus contributor.   A Cubs fan and a great baseball mind -- you should follow him on Twitter if you don't already do so.  I thought I'd share his excellent observations with you on the Vogelbach swing...
"that incredible whip through the zone is triggered by the big weight shift that starts when he's loaded up. Hands lag and EXPLODE."
"notice how his front foot is leading his weight shift as his back elbow is settling into the load position."
"if you watch that a few times you can see how perfectly his hands catch up to his hips right at impact. Squared up. Wowzers."