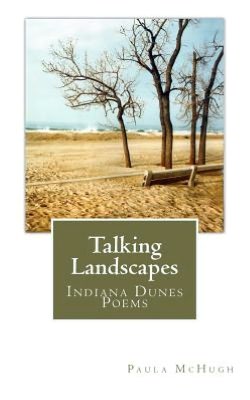 The great Carl Sandburg once said "the Indiana Dunes are to the Midwest what the Grand Canyon is to Arizona and Yosemite is to California," and now another poet has joined him in appreciating Chicagoland's greatest wilderness.
Talking Landscapes: Indiana Dunes Poems, a haiku collection by Paula McHugh with illustrations by Michigan City artist Harold Neulieb, is now available on Amazon, Barnes and Noble, and the Indiana Dunes Visitor Center in Porter, IN.
Local hikers have flocked 50 miles southeast of Chicago to the tree-covered Indiana Dunes for decades, but poet Paula McHugh's memories of the dunescape go all the way back to the summers of the 1950s, when she explored them with her father.
Her dune-inspired poetry collection began as a class assignment at Yavapai College in Cottonwood, Arizona, and is the first of a planned series of poetry chapbooks focused on specific geographic places.