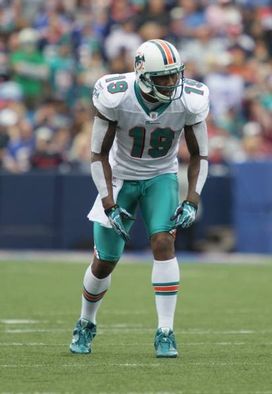 Bears trade for Brandon Marshall
Phil Emery's first off season as the Chicago Bears GM started off on a promising note. The Chicago Bears agreed on trade with the Miami Dolphins for wide receiver Brandon Marshall (6'4" 230lbs). The Bears sent their 2012 and 2013 3rd round picks to the Dolphins in exchange. Last season in Miami, he caught 81 passes for 1,214 yards and six touchdowns last season.The Bears do still have a 3rd round pick in the upcoming draft as well. The trade now reunites Jay Cutler and Brandon Marshall, who played together in Denver, on the Bears. It also reunites Jeremy Bates with the two, as he worked with both in Denver. Marshall becomes the clear number one wide receiver on the field and will bolster the Bears offense.
Marshall signed a four-year extension with Miami in 2011 as part of a package that tops out at $50 million, with $24 million guaranteed. He is under contract through the 2014 season at $9.1 million per year. The Bears were rumored in targeting top free agent Vincent Jackson (who has signed with Tampa Bay) and Marques Colston (re-signed 5yr deal with New Orleans). Marshall is a better pick up because of his age and salary. Both Jackson and Colston would of ate up a large amount of the Bears available cap space. Marshall is younger and is locked in for the next 3 seasons. This also allows the Bears the opportunity to purse free agent DE Mario Williams and others.
Marshall, who turns 28 this month, has had no fewer than 80 catches and 1,000 yards since his rookie year (2006) and has 34 career touchdowns. Marshall is a three-time Pro Bowler (2008, 2009 and 2011), compiling 494 receptions for 6,247 yards (12.6 yards per carry) with 34 touchdowns in six seasons with the Denver Broncos (2006-2009) and Miami Dolphins (2010-11). His 6,247 receiving yards are seventh in the NFL since he joined the league as a fourth round selection of the Broncos (119th overall) in the 2006 NFL Draft. His 494 receptions during that time are eighth in the NFL. Marshall has five straight 1,000-yard seasons.
The Bears will still have to add wide receiver depth via the Draft, but this is a start in the right direction.
Brandon Marshall will wear No.15 .
Jennings get 2 yr extension
The Bears also came to terms with Tim Jennings on a 2yr extension. Jennings will be projected to start opposite of cornerback Charles "Peanut" Tillman. Jennings is a former 2nd round pick out of Georgia. He has played a total of 85 NFL games (2006-2009 Colts and 2009-2011 Bears). Last season Jennings had 2 interceptions and was ranked 4th in tackles on the team. In two seasons with Chicago, Jennings has registered 153 tackles, six tackles for losses, three interceptions, two forced fumbles and two fumble recoveries, while appearing in all 32 games (28 starts).
Bears sign Jason Campbell to 1yr deal
After Jay Cutler went down last season Caleb Hanie showed he is not a NFL quarterback. The Bears were7-3 when Cutler went down and finished 8-8 on the season. Phil Emery corrected that problem today when the Bears signed Jason Campbell to a 1yr deal (estimated at $3 million dollars) to be the backup quarterback. Campbell last season played for the Oakland Raiders before being injured. Campbell, a former 1st round pick in 2005 draft, will be a insurance policy if anything happens to Cutler so a repeat of last season is not seen. In 6 games last season, Campbell threw for 1170 yards and threw 6 touchdowns.
Bears looking at DE Jeremy Mincey
With the Buffalo Bills rumored to be willing to make Mario Williams the highest paid defensive player, the Bears are looking elsewhere. The Bears have interest in DE Jeremy Mincey (6'3" 270lbs), who was with the Jacksonville Jaguars last season.  Mincey had 8 sacks and 57 tackles last season. He was originally drafted in the 6th round of the 2006 draft by the Patriots. Mincey is described as a hard nose player who would fit well in the Bears scheme. Mincey would be much more cap friendly and also would allow the Bears to res-sign their own free agent Israel Idonije.