Fall is officially here! It's the first Saturday of fall what a perfect day to go to a game. North Shore is playing Denver up north and the Blaze are hosting the Griffins in the south suburbs. The weather is perfect for a game, not too cool, just enough sun, and I just enjoy being able to throw on a hoodie, get some fresh air and watch a good game. A few big things have happened since my last blog, and I promise my fall goal is to be more dedicated to postings and updates!
First congratulations to Pam Kosanke for being appointed as USA Rugby's Chief Marketing Officer to lead all internal and external marketing and sponsorship efforts for the organization. She has said good bye to Chicago, for now at least, and has joined USA Rugby one a new level then the esteemed position as a member of the USA 7s team.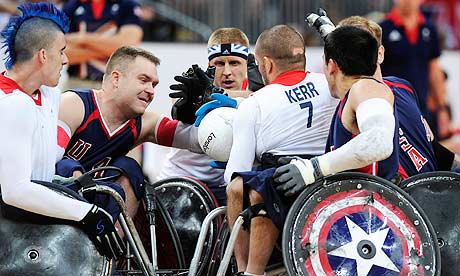 Next the USA Paralympic Rugby team took bronze this year. These athletes are in my opinion the best of the best. For those of us who play or have played sports, in particular rugby, you know the dedication that you have to your game and the amount of strength, energy and the toll it takes on your body. I know from my own MCL and ACL injuries that it makes your more cautious and rethink if you want to play again. These men and women overcome injuries that would leave you not only "disabled" but discouraged to try again.  Retired Navy petty officer 2nd class Will Groulx served in the U.S. Navy for six years and was introduced to wheelchair rugby while he was in rehabilitation at a Veterans facility. Groulx was the USA's team captain and again served his country by leading his team to win the bronze medal in Paralympics wheelchair rugby.
Now a few more of Chicago's own will be joining the USA Eagles in international play. The 2012 Americas Rugby Championship to be held in Victoria, British Columbia, Canada on October 12th through 20th, will have 25 players competing against teams representing Canada, Argentina and Uruguay. USA Rugby Men's team has selected Graham Harriman and Timothy Paulsen, both from the Chicago Griffins, to be a play as Forwards. The Olympic Training Center plays  host as 43 rugby players from across the country arrive for the national team's four-day selection camp to see who will tour with the USA Women's team European tour which Jennifer Lui and Kate Daley from Chicago North Shore will be attending as well as former North Shore player Sylvia Braaten. Best of luck to Chicago's top athletes who continue to make the game grow and be a success in the USA and around the world.
As for future ruggers, tomorrow the Wapiti will be hosting their second clinic of the season for boys and girls 4-14 years of age at Revere Park in Chicago on Irving Park Rd.  The clinic starts at 1pm. The other week when I was at the Chicago Lions v Griffins game there was a group of children who had on their Wapiti jerseys and were playing rugby to the side of the field. It was awesome to see kids loving the game and the one girl who was dominating all of the little boys she was playing against. The Wapiti make their clinics fun and engaging for children of all ages and skill levels and with non-tackle the fear that can be associated with the sport is alleviated.  Also now that the CPS Strike is over, schools will hopefully be starting their after school iYRA Rookie Rugby programs, to help introduce the sport to more kids across the city as well as it being a new part of gym classes!
Hope you all have a great weekend and a great start to fall!
Tags: Blaze, Chicago Griffins, Graham Harriman, iYRA, Jenny Lui, Kate Daley, north shore, Pam Kosanke, paralympics, Rookie Rugby, Timothy Paulsen, USA Eagles, USA Rugby, Wapiti, wheel chair rugby