So on this great day of sales, sleeping in, and remembering and honoring our presidents we should naturally look at some of our country leaders who played the sport of rugby and a few other leaders.
John F. Kennedy: According to rugby journalist Alex Goff John F. Kennedy played for Harvard's team along with his brother Joseph P. JFK's White House Chief of Staff also played and was Harvard RFC's captain Ken O'Donnell, showing just how deep and how far the brotherhood of the game cn carry you.


Ted Kennedy: Played for Harvard. In one of Harvard's rugby games,
against the New York Rugby Club, Ted Kennedy got into three fights in one game and was kicked out of the game.   According to referee, Teddy was the only player he
had ever expelled from a game in thirty years of officiating. Edward Kennedy also played for Harvard and his team is pictured to the left.
Bill Clinton:  He played in England in 1968-1970 while a anti-war protester and part-time student. A  rugby site on the Internet maintains that he was a "...rather lumpy, but excellent" second row forward for the Little Rock (Arkansas) Rugby Football
Club. The Little Rock RFC says he never played for them. Clinton himself told the Sydney Morning Herald in  1996: "Being an American, I didn't know any of the rules, But I was the biggest  guy on the team, so the coach just said to me: 'Clinton, go out there and get in  someone's way.' So that's what I did, just got in people's way."
George Allen: Recent former governor of Virginia, played for  Virginia RFC in Charlottesville.


George W. Bush: Played Inside Center. As you can see int he picture to the right, he played a bit dirty at times. The team was nervous about putting him in the game as he didn't seem a perfect fit for the team. The
president played fullback for Yale in 1968 and was a part of their dramatic win over Harvard that year. He was put in an surprisingly got a kick and with good speed took off and scored. People who played with him said that we was always full of jokes and loved hanging out and partying with the visiting teams as well.
Prince William and Prince Harry: Well, who wouldn't be inspired to play with the two most grounded princes getting into the sport? Prince William was not part of the A-Side as part of Eton Rugby but both William and Harry have not only played but interact with youth squads often.One Internet blogger said they had a friend coaching a Catholic school team against William's team and before the game told his  players that they would have a chance to tell their grandchildren that they  tackled the King, so every time William touched the ball, he would be descended  on by the entire team."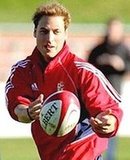 I recently had a child tell me that rugby was only played in Ireland. As a sport played world wide it is no doubt that many future world leader will be ruggers as well as the many others I have not listed who have played, and are some of the great minds of society, like Sir Winston Churchill, Great Britian's Prime Minister Gordon Brown, and Yoshio Mori, former Japanese prime minister. SO when you notice the leadership it takes on the field to play a sport like rugby, think how those skills are transferring over into every day life.