ESPN wrote a piece analyzing the impact of rookies using RPM (Real plus minus) to show that they don't frequently add many wins to a team. The analysis was done to reassure Cavs fans that they made the right decision in trading Andrew Wiggins for Kevin Love (as if they should need reassurance). Maybe, must maybe, Wiggins is a better player, but probably not for three or four years and they don't need a better player When LeBron's 34 as much as they do now.
The analysis, however, doesn't look so good for Chicago Bulls fans.
** Charts below from link above **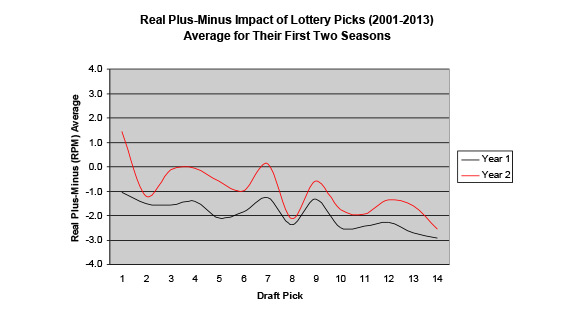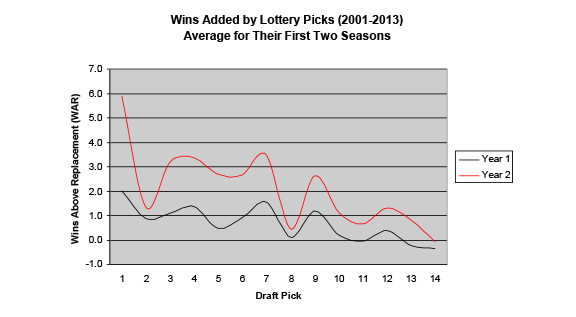 Typical RPM by player level
> 6.0
All-NBA
3.0 to 6.0
All-Star
2.0 to 3.0
Plus Starter
1.0 to 2.0
Starter
0.0 to 1.0
Minus Starter
-1.5 to 0.0
Rotation Player
-2.4 to -1.5
Minus Rotation Player
< -2.4
Replacement Level
Even #1 picks didn't frequently move the needle in a big way in year 1. Bla
Year 1
Year 2
Name
Draft
RPM
WAR
RPM
WAR
Dwight Howard
2004
-0.2
3.6
4.5
11.6
LeBron James
2003
0
4.5
4.4
13.3
Yao Ming
2002
1.5
5.4
3.7
9.4
Blake Griffin
2009
--
--
2.4
9.1
Anthony Davis
2012
0.8
3.6
1.9
6.2
Greg Oden
2007
--
--
1.5
3.1
John Wall
2010
-1.5
1.4
1.4
5.5
Andrew Bogut
2005
1.1
5
1.3
5.1
Kyrie Irving
2011
-0.1
2.2
0.9
4.1
Kwame Brown
2001
-2.3
0
-1.1
1.3
Derrick Rose
2008
-1.9
0.8
-1.5
1.5
Andrea Bargnani
2006
-1.6
0.8
-2
0.4
Anthony Bennett
2013
-4.8
-1
--
--
Chicago seems to be pinning significant hopes for improvement on two rookies. Doug McDermott and Nikola Mirotic. So looking at the above data it doesn't initially seem all that pretty of a situation.
First, let's agree to quantify Mirotic as around pick #10 in this draft and assume he's a similar prospect to McDermott. He was easily a better prospect than Dario Saric who was taken at #12.
Next let's remember a few things, most lottery picks are chosen based on ultimate potential. They've typically got more growth in their game left due to coming out at a younger age. It's frequent that the majority of players picked in the lottery are freshman and sophomores who still have considerable skill improvement left to do.
Mirotic and McDermott aren't blessed with such upside left to their games most likely, however, it also means they likely have a much shorter adjustment period to the NBA. Their skills are far more refined than the typical lottery picks skills are going to be.
The article also only shows the averages of what these players did for their teams. However, obviously there are booms and busts in the lottery and as teams move down the draft there are far more busts than booms. This is both a blessing and a curse for Chicago. If they drafted two busts than they're completely screwed.
However, if they drafted two boom players it will be much better.
It's worth looking at the type of skill that they bring to the table as well. Kyle Korver was a bad ass shooter in the NBA from day one. I'd guess overall that if you were a bad ass college shooter that you're also likely to be a bad ass NBA shooter right away too. Guys who are "automatic" from three, typically have that skill right away.
Many guys become very good three point shooters as time goes on, but the truly dangerous snipers, the ones you don't dare leave open, typically have it right away already. We're hoping that McDermott and Mirotic both fall into this category. If so, it suggests that at least one of their prime NBA skills should have considerable polish immediately.
Finally, looking at the typical RPM chart, what does Chicago need out of Mirotic and McDermott? They probably don't need "star" player initially in order to make a big impact. They might not even need "starter". The poor starter or rotational player category might be enough to make a significant positive bump for the Bulls.
Normalizing out the curve, the typical rookie from their draft status is probably at "minus rotation player" level. The Bulls will need the M&M boys to play 1-2 levels above what's typical. When looking at their overall refined skills, experience relative to most rookies, and types of skills they look to transfer this doesn't seem so unlikely.
The main thing will be whether they are busts or not. If not, they'll likely both make a positive impact immediately. If so, well we're screwed.