In the wake of tonight's Bears game against the Seahawks (9 p.m. CST), there felt like no better time than now to publish the write up on the Bears' secondary. Given that Seattle has the best secondary in the league or the "Legion of Boom" as they have come be known in recent seasons. Admittedly the Bears will not be anywhere close to "L.O.B" anytime soon.
The corners in Chicago are set the same way they have been lined up for the previous four seasons with Charles Tillman returning on a one year contract for roughly $3,000,000. Lining up opposite of him will the be the sawed-off Tim Jennings who received a four year extension.
Also returning is Chicago native and oft-injured, Kelvin Hayden. Who thus far through the off-season training regiments and two pre-season games has looked like a real contributor as nickelback/dimeback or replacement on the outside should Tillman or Jennings go down for any period of time.
Also coming in to help sure up the corners is first round rookie from the "Beamer Ball" school of thought, Kyle Fuller. The Bears used the 14th pick in this past draft on him. He comes from a football family. He has three siblings, all brothers that play(ed) football at the NCAA and professional level. He should be successful and will be playing primarily outside in Nickel formations with Tim Jennings kicking inside to play nickel.
With already four corners seemingly a lock to make the Bears roster given the contract they signed, draft position or performance. That leaves possibly two more spots for corners to make this roster. Other corners on the roster include Isaiah Frey, Sherrick McManis, C.J. Wilson, DeMontre Hurst, Al Louis-Jean, Derricus Purdy and Peyton Thompson.
The easy ones to scrap are Thompson, Purdy, Louis-Jean (though he's performed well). It then gets tough from the numbers perspective Frey was the starting nickelback last season and performed at what would probably be considered a league average level. McManis is a special teams player and plays physical and has played well at corner during the pre-season. The same could be said of Hurst and Wilson.
Unfortunately I don't see the Bears carrying more than six corners. Though Frey was the starting nickel last season there hasn't been much chatter regarding his play in camp or during pre-season. Therefore Frey could lose his roster spot. McManis probably makes the roster due to special teams acumen and his uptick in play on defense. The final spot comes down to Hurst and Wilson. Hurst is who I believe wins this battle. Leaving the six corners on the 53-man roster as; Tillman, Jennings, Fuller, Hayden, McManis, Hurst.
Looking at the cornerback grouping; it looks as though there is some high-end talent and depth to allow for defensive continuity in the event one of the players have to miss time due to unforeseen circumstances. Unfortunately the same can not be assumed for the safety grouping.
This off-season has seen more veteran safeties be brought in than I can ever remember. The Bears are returning Chris Conte and Craig Steltz. From there it's all new bodies. They've brought in former Packers starting free safety, M.D. Jennings, special teams stud, Danny McCray, swing safety Ryan Mundy. Along with 4th round pick from Minnesota, Brock Vereen (younger brother of Shane), Marcus Trice (not making the team) and finally Adrian Wilson.
Unfortunately for the Bears successes don't always come in bringing in numbers. M.D. Jennings wasn't all that good in Green Bay. McCray has been a special teamer. Mundy was brought in to start, whether it be at the Strong or Free safety position remains to be seen. Steltz I don't see making the team this season due to the sheer number of safeties. Brock Vereen is a shoe in to make the roster having been a fourth round pick just this passed draft.
Conte is probably going to make the roster and he's probably still the best free safety on the current roster. Much to the dismay of many Bears fans. Though, in his defense when he had better line play he was more along the lines of a league average starting safety.
The biggest x-factor that lies within not only safety position, but possibly the whole defense is the current five time pro-bowler, Adrian Wilson. If he can even be 70-80% of the of the player that he used to be that is easily the best safety on the roster. The man is a brute and enforcer standing 6'3" and 230 lbs. If you ask me however, he's probably a tad bigger than that.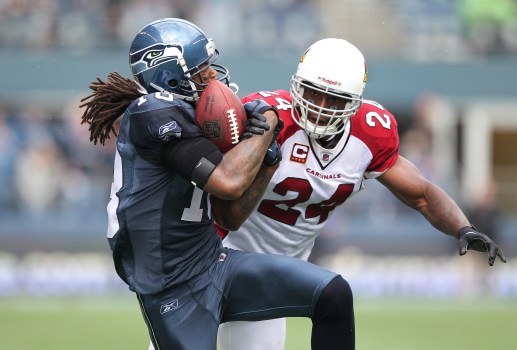 Up to this point he hasn't done much to hurt or help his cause to make this Bears roster. Unfortunately, unless he wins the starting strong safety job outright, he doesn't make the team. However, I'm going to err on the side of optimism and think he shows enough through the final two pre-season games to walk away with the starting job simply because of his past performance and what he can bring to this defense. Though I will openly admit that I'm probably wrong.
Going with my projections that leaves Wilson, Mundy, Conte, Jennings, Vereen and McCray still on the roster. I see the Bears carrying no more than five safeties. Jennings probably being the most likely to be cut in my eyes with my projection of Wilson making the roster. Leaving the entire secondary depth chart to look as follows;
CB: Tillman/Jennings/Fuller/Hayden/McManis/Hurst
S: Wilson/Mundy/Conte/McCray/Vereen