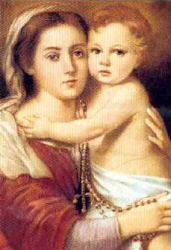 Today marks the feast day of the Memorial of Our Lady of the Rosary.  The honor was instituted because of the victory over the Turks at Lepanto on October 7, 1571.  Pope St. Pius and Christians had prayed the Rosary for victory.
There was no victory over Steve Jobs' illness.  The Apple founder and "Thomas Edison"  of our time would lose his battle with pancreatic cancer at the age of 56 on Wednesday.  Had it not been for his birth mother, Joanne Schiebel, our world would be a very different place.
In this month of celebrating heritage and pink ribbon awareness, let us remember Our Lady of the Rosary by actually saying it.  Say it every day.  Say it for those who are battling cancer, say it for those we love, say it for all new mothers that they make the same choice that Steve Jobs' mother did.