During this month's theme, Ignite Your Passion, we're kicking off February helping you build a fervor for your fashion. Being a bit of fashion misfit  I, Shavon "Vonnie Coleman, on behalf of 4-Star Explorer decided to do some digging to give you readers an easy guide to reviving your wardrobe. And knowing our willingness to get out and explore the recesses of the trendy world, we can help you turn your closet from storage space to sizzling saloon.
When approaching the task of revamping your wardrobe there are 3 factors to focus on: Create a Clean Palate, Pad your Pad with New and Necessary Pieces, and Build the Best "You". Don't get lost in the verbiage, 4-Star is essentially teaching you how to minimize the clutter, maximize the amount of looks you can pull off with your pieces, and streamline a fun, flirty look that matches your body type and personality.
Create a Clean Palate
1. Plan Accordingly- consult resources such as YouTube or Pinterest. Set a date aside, usually a Saturday afternoon or a weekend. Also, be sure to purchase the right materials. Most common department stores have cute organizers that not only boost the available space but fit into any decor.
2. Clean in Quadrants- Trying to tackle the big cleaning job known respectfully as your your dressers and closet can be a daunting task for even the most skillful. Choosing to focus on one area a day over a weekend will make for a better cleaning experience. It won't feel like you've been working all day and doing a little over an amount of time will ensure you won't miss out on whole days from seeing the outside world.
3. Follow the 3 Month Rule- Long before Steve Harvey decide to dish out his own brand of common sense philosophy, the 3 month rule was always in place, at least when it comes to cluttered closets. Unless it's out of season (such as making a transition from summer to fall, fall to winter), if you haven't worn it or more appropriately haven't fit it in 3 months, you might want to discard or donate.
Pad your Pad with New and Necessary Pieces
1. Separates Are Equal...To Amazing Style- The suggested key pieces to rev up a wardrobe may vary depending on who you're consulting. But after doing some extensive research, we think we just might have found the greatest user friendly source, the now iconic For Dummies... advice series books. After consulting Fashion for Dummies written by Jill Martin and Pierre A. Lehu, here's the short list of what every closet needs: white/black tank top, dark washed jeans, black trousers, a nice button down shirt, knee length skirt, black blazer, black motorcycle-styled leather coat, set of pearls, simple stud earrings, black pumps, black leather bag, and, of course, the little black dress.
2. Don't Be Afraid to Google- I have long since praised the process of typing whatever incoherent idea that has popped into my head and then having the popular search engine spit out a perfectly rational set of results. The same applies to fashion. You don't necessarily need a stylist or personal shopper when Google'll give you the Top Ten Spring 2013 Fashion Trends along with links to purchase them.
Here are some of our favorites:
Black and White- Designers such as Michael Kors and Ralph Lauren have been dousing the runway in the ebony and ivory pairing. And as every good style does, it has trickled down to ready to wear looks. Line your closet with the ease of a geometrically designed party dress with the Diamond Print Bow Party Dresses from Demestiks NYC by Reuben Reuel retailing for $150. Or this $39 Dorothy Perkins Ivory and Black Tuxedo Style Blazer is the perfect statement piece to throw over a tank top with jeans.
Lush Leather- This season sees the emergence of the use leather or leather-like material, straying from traditional styling. Go all out with the pictured Pleated Faux Leather Skirt from Forever 21 at a mere $22.80. Or if going more subtle is your thing, dive into the awesome trend of scuba stripe leggings. Macy's has a great pair of Kensie Faux Leather Leggings, $58. And for the more curvier women, we bought a great pair of basic leather-like lined leggings that look great, are super comfortable and can go with any top. Get yourself the $24.50 Black Knit With Faux Leather Stripe Leggings at Torrid.
See-Through and Cut-A-Ways- Have you ever wanted to show off the goods without actually bearing it all? Well this season's peekaboo trend is just the ticket at highlighting the positives for any body type. This trend has a multitude of ways to execute it flawlessly whether it's mesh, thinly layered lace, or tiny keyhole cuts.  For the more daring, you'll love the Techno Cutout Mini Dress,$69, from Arden B. For the more tame, you can get the pictured $39.99 Ark & Co. Cutout Blouse from Boutique to You Online.
Build the Best "You"
1. Learn Your Body Type- With the female body constantly being compared to fruit it can be hard deducting just how your body looks. Heck, depending on where you shop for produce, an apple and pear could look oddly similar. The first thing you should do is invest in a full length mirror. It can be daunting seeing full frontal you, but if you can't see what's good about you, how can someone else?
Next consult a professional. In many clothing stores the sales assistants are familiar with what styles fit what body type best. They can help you, or even measure you in some instances, discern the shape your waist and hips form.
2. Create Your Signature Style- My mother told me a story the other day about a coworker known for his hats. During Christmas, he wore a new one everyday, from Santa to the Grinch. Eventually people started buying him hats just to build his collection. Now I'm not saying if you go buy several pairs of designer shoes that people will love you in them so much, they'll start adding to your collection but you get the point. Having a "thing" which you are known for can really add to your style and overall confidence.
The cool thing is there's no science to this theory. You really have to go through trial and error until you find the right fit. One thing I have recently gotten into is flashy earrings. They're fairly inexpensive depending where I find them. And sometimes the journey to find a rare pair is even better than owning them. So Ness Boutique, is a great resource if jewelry is where you want to make your mark. She's local and she only makes a small amount of each style so chances are no one can steal your look.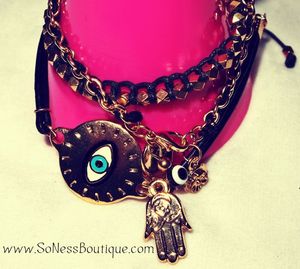 3. Never Be Afraid to Try Varying Styles- You've heard all the sayings. Life is short. Variety is the spice of life. But you actually have to live them. It's easy to dismiss fashion as just a silly thing that people spend way too much time, energy and money glorifying. But if you do fashion right, it will turn into style which by extension is a part of you. I will tell anyway that struggles with what to wear that I understand. I have been through a million doughty, sloppy, flamboyant and downright questionable looks. And that's just during my college days. (Seriously, you should have seen me through my "blonde" phase.) But if you are to ever catch me on one of my good days you could see I'm living proof that eventually you get it right. Style should be a part of everyone's personal growth and journey.
Now time for your comments...
Are you a Decadently Dressed Diva? What are some of your personal style tips? And most importantly, what Spring/Summer 2013 fashion trend are you most excited about?